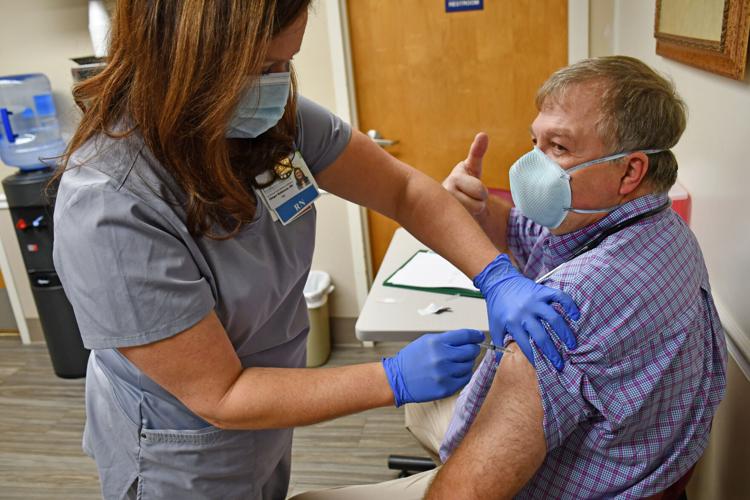 Lake Martin Community Hospital's Dr. Robert Schuster and Ivy Creek Healthcare CEO Mike Bruce were among the first to receive Alabama's first batch of Pfizer COVID-19 vaccinations Wednesday, in a historic nationwide rollout.  
Upon receiving the injection, Dr. Schuster said he "didn't feel a thing" and was "glad to get it over with."
The shipment of 950 vaccines arrived at the hospital Tuesday morning for frontline health workers and first responders. Vaccinations began at 8 a.m. Wednesday, with several doctors and nurses having already received their injections by the time Bruce and Dr. Schuster arrived.
"I have been harassing them for the last week about it," Dr. Schuster said.
Bruce said he wanted to set an example for his employees.
"If it doesn't start with the leadership we'll never get this changed," he said.
Bruce, usually squeamish around needles, said the injection was painless.
"I can't even give blood without passing out," he said. "I was expecting the worst. I don't even know how I'm in healthcare."
Vaccinations were administered by director of nursing Kim McDonald and resident nurses Ginger Robinson and Amanda Huff, who received specific instruction from pharmaceutical company Pfizer on the vaccination process. The vaccine is administered in two doses — everyone who received the vaccine Wednesday must receive their second shot in 21 days.
When it gets to be the vaccinators' turns, "we'll be shooting each other," Robinson said.
Dadeville's Lake Martin Community Hospital, operated by Ivy Creek Healthcare, is among the first 20 hospitals in the state to receive doses, due in part to their proactivity in obtaining the proper storage freezer for the vaccines.
"The pharmacist Johnny Latorre jumped on getting the freezer pretty quickly," Bruce said. Lake Martin Community Hospital was able to tell the Alabama Hospital Association it was ready to receive doses several weeks ago.
In terms of the final decision made by the Alabama Department of Public Health (ADPH), "I'm not sure how that decision was made," Bruce said.
Latorre is responsible for the mixing and handling of the vaccine.
"Everything is very time-consuming, very detailed," Latorre said. "(Pfizer) has given us lots of resources — they have gone above and beyond. And the Alabama Department of Public Health has been there every step of the way."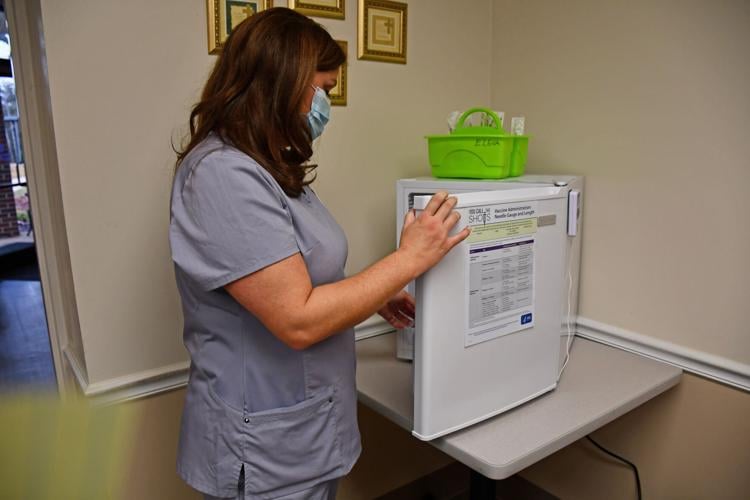 Bruce said it's been humbling to see his staff members rise to the occasion.
"To have a vaccine within a year of this tragedy is a miracle," Bruce said.
He also thanks the community for its response.
"One child came and donated her piggy bank to help us," he said. "She said she wanted to be a nurse when she got bigger."
The Food and Drug Administration (FDA) approved the Pfizer vaccine for emergency use on Friday. Pfizer started working on the vaccine 11 months ago. The vaccine has been proven to be 95% effective in a late-stage clinical trial of 44,000 people.
Despite some public concerns about the speed of the vaccine trials, Dr. Schuster said it was safe to use, including for patients with allergies.
"We have to trust the FDA and all the experts," he said.
The vaccines' arrival, while long-anticipated, was not necessarily celebratory — around 11 a.m., a few hours after the first doses were given, employees received word that an Ivy Creek employee hospitalized with COVID-19 had passed away. Certified registered nurse practitioner Andrew Atkins, who worked at an Ivy Creek clinic in Millbrook, died from complications related to COVID-19.
As Ivy Creek health workers continue to get vaccinated, Atkins has been on the forefront of everyone's minds, Ivy Creek marketing director Heidi Smith said.
At present, vaccine allocation in Alabama is limited to frontline health workers and first responders. According to the ADPH vaccine plan, doses will be available to the general public sometime mid-2021.