Tallapoosa County will start to see rain and other impacts from Hurricane Sally this week. 
Sally quickly strengthened from a tropical storm into a hurricane with winds of 90 mph earlier today. As of 4 p.m. Monday, the National Weather Service in Birmingham is expecting Sally to make landfall along the Mississippi coast late Tuesday or early Wednesday.
Anticipating a potential hit from Sally, Gov. Kay Ivey has requested a pre-landfall emergency declaration for the state as of Monday evening.
"As projections for Hurricane Sally continue to develop, and as Alabama will likely receive significant impact from this system, I have requested a pre-landfall emergency declaration for the state," Ivey said in a statement Monday evening. "I just wrapped up a phone call with Acting DHS Secretary Wolf and FEMA Administrator Gaynor and asked them to expedite this request.
"The White House and Trump Administration have been extremely helpful as we have anticipated a potential hit from Sally. I thank President (Donald) Trump for being a terrific partner for our state as we make preparations. My fellow Alabamians, please continue heeding all local warnings and stay weather aware."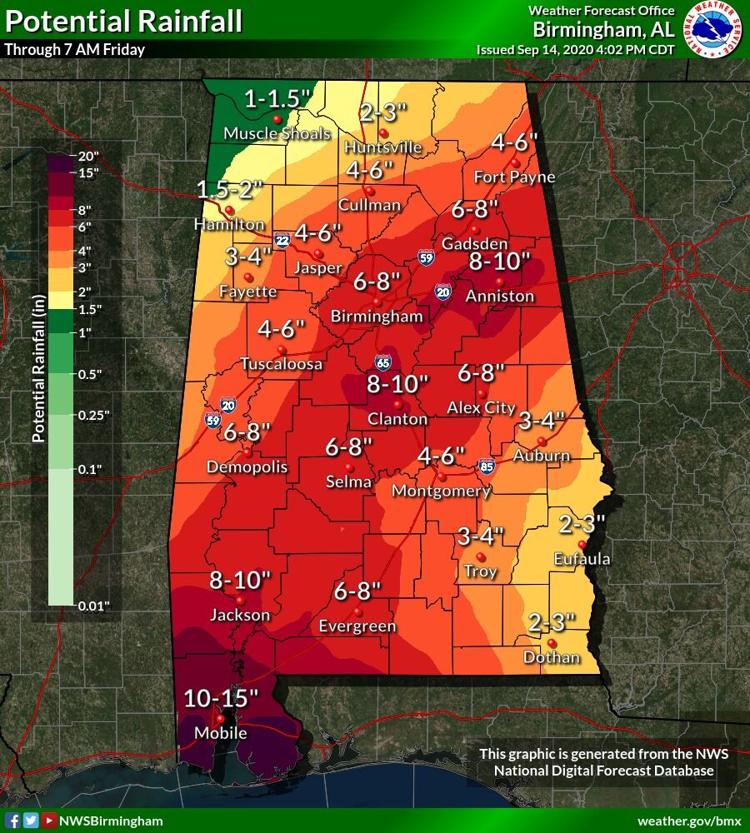 Exact timing is still uncertain, NWS said, but the center of Sally is expected to move across Central Alabama in the Wednesday to Thursday timeframe and produce copious amounts of rainfall. 
Impacts to Central Alabama include flooding with rainfall totals of 4 to 9 inches or higher, river flooding risk for some area rivers, winds of 20 to 30 mph and gusts of 40 mph across the Southwestern part of the state Wednesday and marginal risk of a few brief tornadoes across the far south on Wednesday.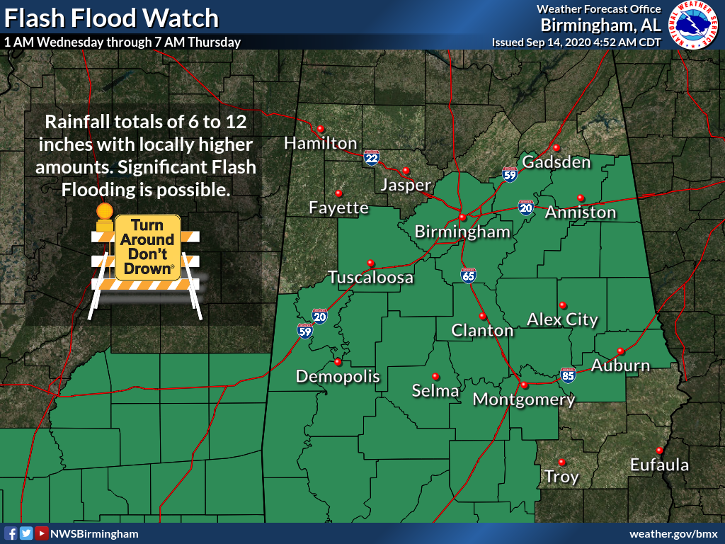 Alexander City is anticipated to be under a flash flood watch from 1 a.m. Wednesday to 7 a.m. Thursday with rainfall totals of 6 to 12 inches possible. 
There is a 30% chance of showers today but most of the rain will begin to move in Tuesday and the rest of the week.