Gov. Kay Ivey has issued a statewide mask mandate.
Ivey announced in a press conference this morning all Alabamians must wear masks when in public and in close contact with other people. Specifically, the mandate states you must wear a mask when you are within 6 feet of another person from another household in an indoor space open to the public; a vehicle operated by a transportation service; and an outdoor public space where 10 or more people are gathered.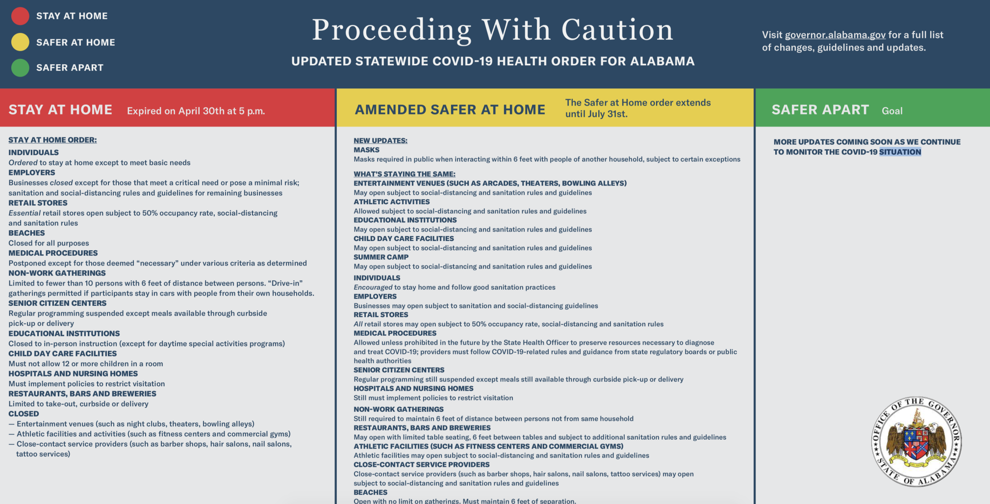 All kinds of masks are allowed — store-bought, homemade or improvised from household items like scarves, bandanas or T-shirts. The key is for the mask to cover your nostrils and mouth. 
The mandate goes into effect 5 p.m. Thursday and will last through July 31. 
Because this is a statewide rule, all residents of Alabama must comply. Those who do not comply are subject to a $500 fine or jail time.
Ivey is aware this mandate is hard to enforce but she said the goal is not to fine people. The goal is to stress the dire need to wear a mask in public in order to protect others and limit the spread of COVID-19.
Businesses must make all reasonable steps to encourage mask use by employees and customers. The state suggests businesses posting signs encouraging customers and patrons to wear a mask. Although a business is not required to deny entry or service to those without a mask, they always retain the right to do so and doing so would be a reasonable step to encourage wearing a mask, according to Ivey.
There are five categories of exceptions for wearing masks. The largest category — exceptions for "practical necessity" — covers people or situations where mask use is incompatible with the realities of life. For example, children 6 or younger, people with certain medical conditions or disabilities, eating and drinking, medical and dental procedures, etc. There are also categories of exceptions for exercise, communicating with an audience and for certain essential job functions. An additional category carves out narrow exceptions for protected activities such as voting and religious worship but Ivey said even then, mask use is strongly encouraged.
This story will be updated.