As the state reopens amid the COVID-19 pandemic, the demand for gas is beginning to rise. And with it, local residents' concerns grow over high gas prices. 
The average price per gallon of regular unleaded gasoline in Alexander City this week is $1.68, 13 cents higher than the state average of $1.55, according to gas analyst company GasBuddy. 
According to GasBuddy price reports, Alex City is just below the most expensive price in the state. As of Friday, the most expensive station in Alabama had fuel priced at $1.75 per gallon while the cheapest was $1.36 per gallon, a difference of 38 cents per gallon.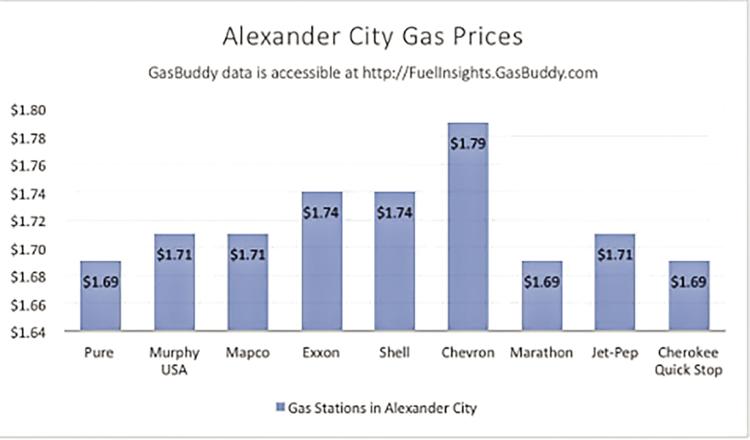 On Friday, American Automobile Association (AAA) reported Tallapoosa County has the sixth highest retail gas prices behind Calhoun, Bullock, Monroe, Escambia and Clay County, respectively. Tallapoosa is one of 13 Alabama counties with a county average gas retail price between $1.645 to 1.799.
Yet, nearby counties vary in average retail prices. According to GasBuddy, gas prices in Sylacauga range from $1.47 to $1.55; $1.32 to $2.00 in Camp Hill; $1.39 to $1.74 in Rockford $1.69 to $1.89 in Goldville; $1.69 to $1.89 in Dadeville; $1.39 to $1.67 in Tallassee and $1.37 to $1.59 in Eclectic.
Kim Johnston, customer service leader at Mapco located at the intersection of U.S. Highway 280 and E. Street in Alexander City, said competition between gas stations may be raising the retail prices. 
"Our company does competitive pricing," Johnston said. "We turn in a competitive fuel survey twice a day with the three gas stations closest to us and then there's a fuel analyst that tells us what to set the price at."
With prices varying across Alexander City, Johnston says residents' concerns are understandable.
"I'm not really sure why the gas here is so much higher because our other stores like Auburn are 30 cents lower," Johnston said. 
GasBuddy reports Lee County's average gas price is $1.51, 20 cents lower than Mapco in Alexander City. 
Don Bridges, an employee at Marathon located on Hillabee Street, said the invoice gas stations receive dictates their retail prices. 
"You get the invoice and then you have to sell it according to what it is," Bridges said. "You don't want to make it too high and you can't go lower than what's on the invoice. It's just according to how much it costs you and how much you have to sell it for." 
Alabama gas prices have risen 4 cents per gallon in the past week, averaging $1.57 per gallon Friday, according to GasBuddy's daily survey of 3,348 stations. 
With the rise in local prices, some residents are concerned price gouging is occurring in Tallapoosa County.
Brenda Siggers, owner of Sigger's Family Market in Dadeville, said there are inconsistencies in the county's gas prices. 
"If we had non-ethanol gas or regular gas — it was $1.69 a few months ago — why is everyone else's prices so high?" Siggers said. "Some people may be gouging the price trying to make extra money."
Alabama's price gouging law prohibits the unconscionable pricing of items for sale or rent and comes into effect when the governor declares a state of emergency. 
While gas prices in Alexander City have varied amid COVID-19, price gouging is not behind the price fluctuation. 
Title 8, Chapter 31 of the Code of Alabama states the Alabama Unconscionable Pricing Act determines "engaging in price gouging for the sale or rental of any commodity or rental facility" during a declared state of emergency unlawful. Price gouging is defined by imposing unconscionable prices, defined as an amount equal to or in excess of 25% the average price at which the same or similar commodity was obtainable in the affected area in the last 30 days immediately prior to the declared state of emergency. Additionally, gas prices are aligned with their comparative markets. 
Alabama Attorney General Steve Marshall addressed price gouging at the beginning of the coronavirus pandemic. 
"Alabamians should be on guard against those who would seek to prey upon them through price gouging of commodities and services for consumption or use as a direct result of the public health emergency," Marshall said in a March press release. "Furthermore, those who seek to profit during this time of emergency through price gouging will be subject to the law." 
The fine for violating Alabama's price gouging law can be up to $1,000 per incident.
The national average price of gasoline has risen 6.4 cents per gallon in the last week, averaging $1.83 per gallon Monday according to AAA's gas price report. The national average is down 1.1 cents per gallon from a month ago and 102.8 cents per gallon lower than a year ago.
Alabama is currently the sixth least expensive state in the U.S. with retail prices averaging at $1.55 per gallon, down 4.6 cents from April according to GasBuddy. 
Retail gasoline prices are mainly affected by crude oil prices and the level of gasoline supply relative to gasoline demand, according to the Energy Information Administration's (EIA) website.
The EIA's latest data report showed the demand for gas increased by 800,000 barrels per day (b/d) to 6.7 million b/d last week. Gas demand is expected to grow, leading pump prices to continue their increase.