John Patterson loved his roots.
Patterson was born in northern Tallapoosa County and died there Friday. The "country gentleman" served in the two branches of Alabama's government but never forgot home or those he met across the state.
Betty Carol Graham was sworn into public office as a state legislator by Patterson in 1994.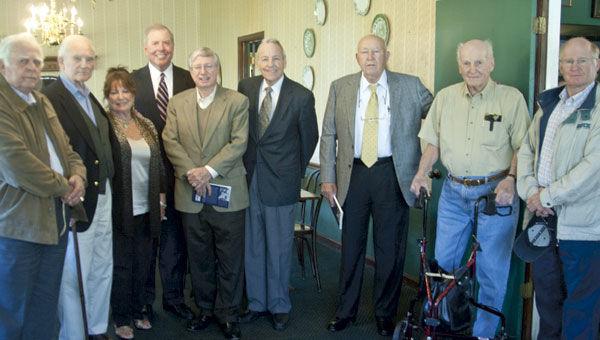 "He and I were pretty close," Graham said. "He was a distant relative. When I was first elected to the legislature, he swore me in in full robe in Rocky Creek church's pulpit. That's how he began his book 'Nobody but the People.'"
Patterson was born in Goldville and moved with his parents to Phenix City. Patterson returned from serving in the military in Africa and Europe in World War II to go to school and become a lawyer in father's practice in Phenix City.
Patterson was launched into politics as his father was assassinated for efforts in cleaning up the gambling and other issues of the town across the river from Columbus, Georgia and the Army's Fort Benning. As Alabama's attorney general from 1955-1959, Patterson led the cleanup of Phenix City and used it as a launchpad for a campaign for governor. But instead of launching his campaign for governor in Montgomery relishing in his record of cleaning corruption, Patterson returned home to Tallapoosa County.
"I remember when he ran for governor, he kicked off his campaign in New Site at the community pond," Graham said. "He never forgot his roots. To me that is the one thing I admire most about him. No matter how big you get, if you can remember your roots and stay humble, that is key."
Patterson would go on to defeat George Wallace, the only time Wallace was defeated while campaigning for governor of Alabama.
Like Wallace, Patterson's campaign supported segregationist views like every other politician of the era, but Patterson's actions and words after being elected governor proved he was far from being racist. Retired Alexander City attorney Larry Morris has sat in on many of Patterson's storytelling sessions and a few stand out to him. Morris got to know Patterson while Patterson was on the Criminal Court of Appeals and Morris was president of the Alabama Bar Association. Patterson was the liaison between the courts and the state bar association.
John Kennedy was campaigning for president and was being challenged by Senate Majority Leader Lyndon B. Johnson and Illinois Gov. Adlai Stevenson II.
As governor Patterson was leading the Democrat delegation to the 1960 Democrat Convention in Los Angeles.
"In the alphabetical calling of states in a broken convention, the first state called is Alabama," Morris said. "Alabama cast 19 votes for John Kennedy because of John Patterson over Lydon Johnson who was the Southern favorite. He swayed them all for Kennedy over Johnson. Most of the other Southern states from Texas all the way to North Carolina were for Johnson."
Kennedy would get the nomination and go on to the White House. A couple years later Kennedy would call on Patterson for his assistance as the Freedom Riders were being assaulted. On May 14, 1961, the Freedom Riders were attacked in Anniston. Kennedy placed a call to Patterson.
"It would probably would have been the worst massacre had it not been for Gov. Patterson and the late Floyd 'Red' Mann," Morris said.
Mann was a former police chief of Alexander City and served as Patterson's director of public safety.
"President Kennedy asked Gov. Patterson if he could guarantee the protection of the Freedom Riders," Morris said. "He said, 'I can't but I can guarantee I got the best public safety director in the United States and if it can be done, he can do it and we will see that it gets done.'"
According to Morris, the attempts of Patterson and Mann were successful.
"When the bus pulls up to the Montgomery Greyhound bus station, there is not a soul in sight," Morris said. "All of a great sudden when the door opens, 200 people rush the bus to kill, lynch, to do everything.
"Red Mann steps out with a .45 and says, 'I don't know how many y'all I can get before you get me but I got eight bullets in here. I can sure get eight of you. He said, 'These people on this bus are going to get off and they are going to the restroom and going to get something to eat and be leaving. I'm going to be with them. Whichever eight you want to pick out to shoot, well, line them up.' There was not one bit of trouble in Montgomery. They go from here to Jackson, Mississippi and the terrible outbreak over there."
Morris said Patterson was proud to have directed the defense of the Freedom Riders in Montgomery.
"It was protect at all costs," Morris said. "It was all done under the direction of Gov. Patterson. He was very proud of that."
Graham said Patterson was always wanting to go back and change history on his stance of segregation during his campaigns for attorney general and governor.
"He always expressed remorse for being such a pro-segregationist," Graham said. "I think if there was one thing he could do again he probably would change that. He expressed that remorse more than once."
As governor, Patterson sought and received the largest spending for education and infrastructure in Alabama in its history at the time he was in office.
"(Patterson) was very instrumental in a lot of infrastructure improvement across the state," Graham said. "He was keen on highways and roadways. He put a four-lane through New Site."
Patterson's history in Phenix City played into his admiration for law enforcement. Albert Patterson, John's father, was murdered for his efforts to clean up the Phenix City area while campaigning for attorney general.
"He was keen on law enforcement having lived through the Phenix City era, law enforcement was very important to him," Graham said. "I know that he supported anything law enforcement needed. He kept a very close tab on that."
Patterson would retire from the state's Criminal Court of appeals in 1997 but leave his family's Timbergut Farms one more time for public service in 2003. Patterson was appointed chief justice of a "Special Supreme Court." The role of the special court was to handle the case of Alabama Chief Justice Roy Moore who appealed his removal from office after refusing to remove a Ten Commandments monument from a courthouse despite orders from the federal courts. The special court upheld Moore's removal from office.
Morris recalled a special lunch at Cecil's in Alexander City from more than a decade ago.
"Sonny Hornsby and Bo Torbert, both ex-chief justices called me and said we are going to have a little luncheon for John Patterson and Albert Brewer is coming, Bill Baxley too," Morris said.
Morris joined the two ex-chief justices, two former governors and Roy Greene, the district attorney Patterson appointed to clean up Phenix City. Morris said a reporter from The Outlook came by to take a photograph and upon hearing she was from a small southwest Alabama town started to rattle off names from every small town, community and cross-roads in the state.
"They asked if she knew one person," Morris said. "It turned out to be her uncle. Then another and another. After she left it got to be a game to see if they could come with a place someone else couldn't name someone."
Morris said the game could have gone on for hours.
"They knew someone from every little town from Rainsville to Wedowee to Satsuma to Bayou Bayou La Batre," Morris said. "The reason you had to go out among the people to get elected. They campaigned on the road shaking hands and meeting folks, something lost in today's political realm."
Morris said Patterson had a great wife in Tina.
"She has been the most caring, loving person you would ever want to be around," Morris said.
Graham said she relied on Patterson in her time in the legislature from 1995 to 2010.
"You always had conversations with John Patterson," Graham said. "I asked his opinion many times."
Those opinions would come with stories Graham said.
"He was just a wonderful person and always an interesting conversation," Graham said. "You never knew what turn the conversation was going to take you but you knew you were going to like it."
And the conversations were not always serious or about roads and appropriations.
"He served in the judicial and executive branches of government and he always kidded me that he still needed to serve in the legislative branch so he could touch all the bases," Graham said. "I said, 'Governor, I think you pretty much have touch the legislative base without officially serving.' He liked to tease you."
Patterson's life centered around his home in northern Tallapoosa County.
"He loved the Goldville area," Morris said.
Patterson died at home Friday surrounded by family but many in the community saw him out and about in the last several months.
"He always had a very warm spot for this area," Graham said. "He never forgot his roots. He wanted to come back here to retire to a cabin and lake. He loved this area. He was going to turn 100 in September and was going to have a big cake. He loved eating at The General. He loved visiting on his front porch.He loved visiting with friends. He lived a quiet country gentleman's life."