Great Bethel Missionary Baptist Church has meant worlds to the African American community in Alexander City.
For more than a century the church has served the community and Friday was no different as it hosted a drive-through COVID-19 vaccination clinic. The clinic was much welcomed by the community, especially Alexander City resident Arlene Wyckoff who said it provided the community a chance to get vaccinated.
"I think it is awesome, people didn't know how they would get the vaccine," Wyckoff said. "They had a hard time online setting a date."
Helen Brock works at Great Bethel and said the vaccination clinic was perfect for the church to serve the community more.
"It is good for this community," Brock said. "We are just glad to be part of this. We are happy to serve this. We knew the importance of people getting the vaccine. When you look at 500,000 plus people that have already died from it, the risk is too great to not take advantage of it. It is just that important."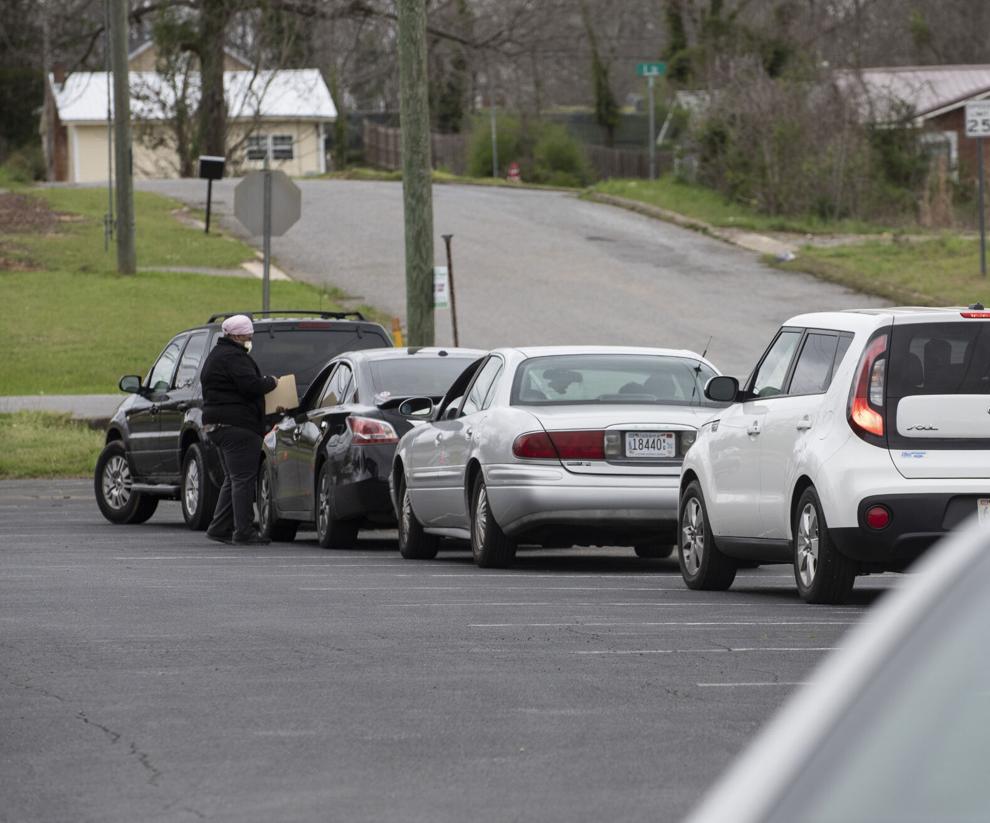 Friday's drive-through vaccination clinic was a first for Tallapoosa County. Russell Medical CEO Jim Peace said the idea started at UAB through its Alabama Area Health Education Centers (AHEC) and Dr. William Curry.
"The partnership means a lot here in Alexander City; it means a lot to those who are sitting here in line getting their vaccine and haven't had access to it," Peace said. "When I got a call from Dr. Curry a couple of weeks ago and he said he had vaccines for our county. He asked, 'What can we do together to get vaccines in arms?'"
The AHEC partnership in Alexander City brought together UAB, Russell Medical, Encompass Health, the City of Alexander City and the church.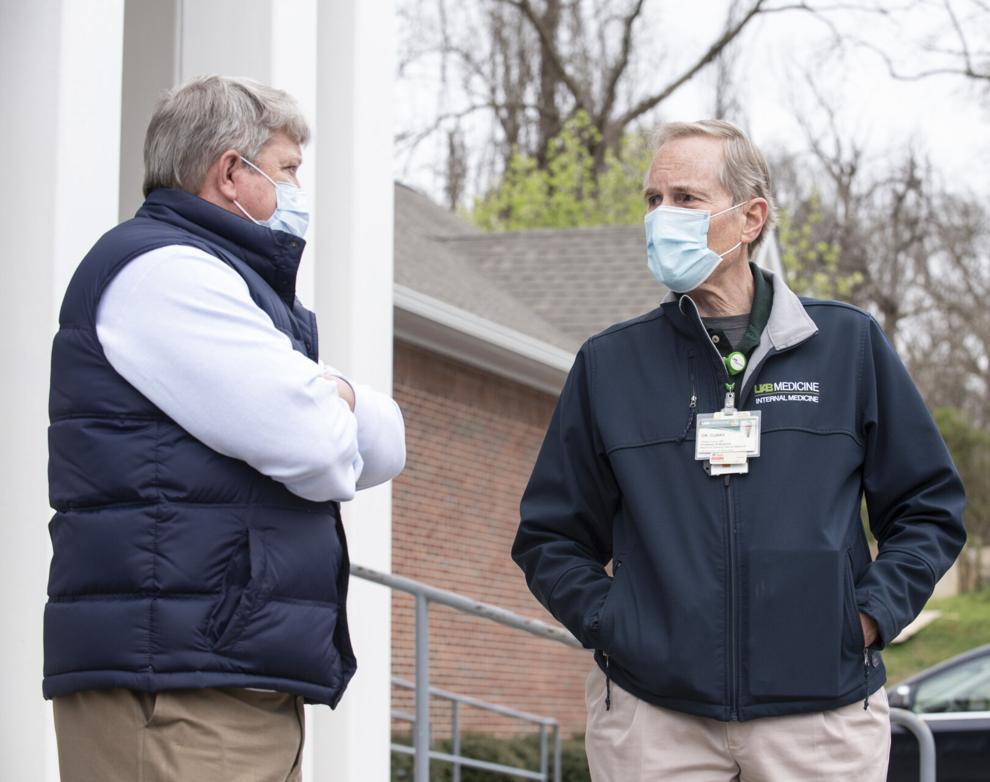 Friday was a welcomed sight for Dr. Curry.
"This is a good day; this is the first drive-through vaccine clinic I have been to," Curry said. "The other vaccine drives I have been to have been walk ups except for the UAB drive through. This is the first community-based drive-through."
With 100 doses of the Pfizer COVID-19 vaccine, the partners wanted to get the word out without creating a burden on the area around Great Bethel.
"When they told me they were going to be doing this over here, I went to knocking on doors to get these people out to get what they can," Wyckoff said. "I told them they need to get out and get it. They said they will especially since it was that close."
Dwayne Jennings was one Alexander City resident who rolled up his sleeve for the vaccine.
"I had an appointment but it was out of town," Jennings said. "It saved me a trip."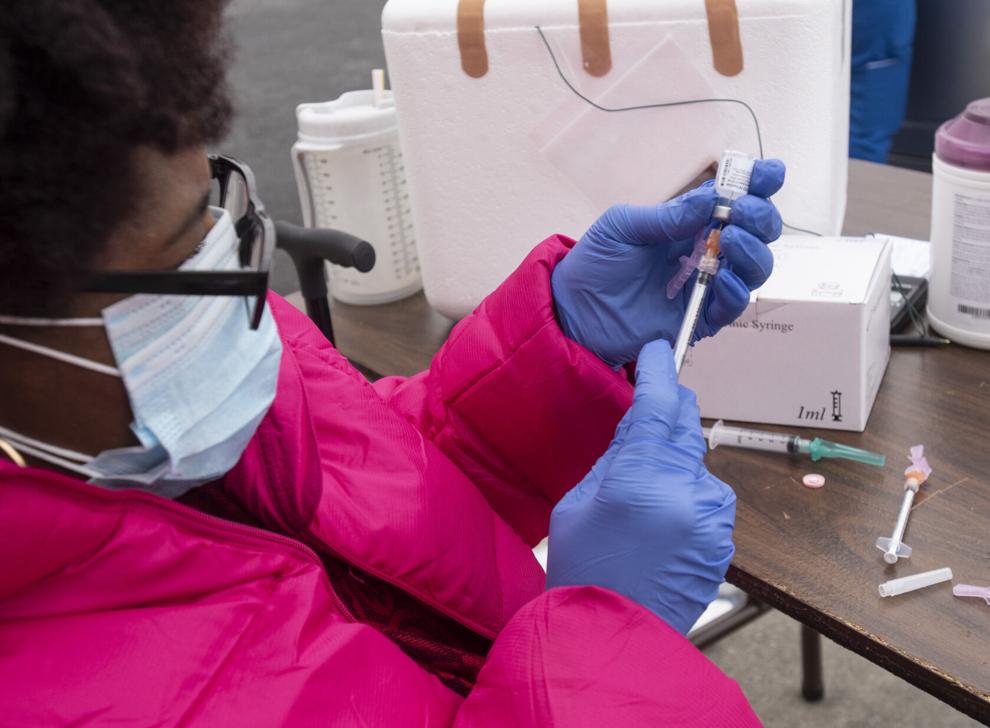 It is just the change in mission Curry said the AHEC was currently experiencing.
"(AHEC is) usually about trying to help encourage students in underserved communities into health professions," Curry said. "They have been involved in the last year because of COVID first with testing and now with vaccines for rural communities because they are connected in every rural county."
Curry said the mission is to support local efforts in the pandemic but not take them over.
"It is a network model; we can provide some information and coaching and some personnel and we can be a source of vaccine through (Alabama Department of Public Health)," Curry said. "We provide that. We really like working with churches because that is the best for people to get confidence about getting the vaccine. It's somebody they know and trust."
Wyckoff said key leaders getting vaccinated early has helped the Africian American community in Alexander City being willing to get vaccinated.
"They have come around," Wyckoff said. "When they saw President Obama and President Bush and President Carter and his wife and few others, all of them take it, they got their fears eased."
Barbara Martin walked up to get her vaccination.
"It's fine," Martin said with a double thumbs up. "It didn't even hurt."
Onaje Brooks was a little bit nervous as he walked up, maybe being 19 played into it, but Brooks still rolled his sleeve up.
"It is something new," Brooks said. "It is something that me as a person is not used to, but I would rather have it in me than the coronavirus. So I'm getting this shot."
Brooks was fine in the seconds after the syringe entered his arm and 15 minutes later.
"It was not painful at all," Brooks said. "We will see what it does to you."
Great Bethel wasn't the only location in the area to see vaccines being put in arms.
"We are also providing vaccines at our Goodwater location as well," Russell Medical director of marketing Susan Foy said. "That is a different setup. It is by appointment. We reached out to the ministerial association in the Goodwater and they shared that information amongst themselves. We are doing it differently there because we have the clinic there."
Peace said the 100 doses of vaccines at Friday's drive-through clinic at Great Bethel present the perfect opportunity to see how Russell Medical can transform its COVID-19 drive-through testing center at The Mill Two Eighty into a drive through vaccination center.
"This is a test for us to see how the drive through goes," Peace said. "We have more vaccines coming. We haven't seen those yet. We hope we get those soon. We want to do a mass process so we can get as many in arms as we possibly can."
Peace said the drive-through testing center would close Friday and testing would move back to urgent care and Russell Medical's emergency department, but if the need arose, The Mill Two Eighty could be used for testing again. It's something Peace is hoping doesn't happen. Peace is also hoping Russell Medical will be able to provide vaccines beyond the main campus on U.S. Highway 280.
"If we get sufficient vaccines to put those in our rural health clinics," Peace said. "We are trying as best we can to quickly put vaccines in arms. We have Camp Hill in our mind. We have talked to Camp Hill and they have people who want us to come and who want to help. That is definitely another site we want to do.
"We have some other ideas about getting to these homebound folks too."
Peace watched the drive-through operation at Great Bethel for a while and took in the moment as Russell Medical makes plans to transition from mass testing.
"Isn't it a great day when you are moving from testing to vaccinating?," Peace asked.