"Dadeville city lights sparkle with Christmas," reads a Montgomery Advertiser headline from Dec. 25, 1963.
This holiday season, Pennington Park owners Kurt and Leigh Pfitzner hope to harken back to Dadeville's old tradition as the "City of Lights," when costumed residents would act out vignettes and sing Christmas carols for tourists.
On Nov. 29, the Pfitzners will be holding a Christmas tree-lighting ceremony at Pennington Park, complete with a sleigh, Santa's mailbox and 28 Christmas trees sponsored by various businesses around Dadeville.
The tree idea can be credited to Realtor Scarlett Gorham, whose business Three Sixty Real Estate sponsored the first tree. Gorham figured some of her business-owning friends might be interested in sponsoring trees as well and offered to ask.
"We got 28 names on day one," Gorham said.
Some of the trees are already up and have been decorated by the businesses accordingly — Lake Martin Pizza Co.'s is covered in pizza ornaments; Nola Bama Snack Shack's has tinsel in the colors of Mardi Gras.
At the center of the park sits the sleigh donated by Karen White.
"Last year we had a lot of people come down here and take their family Christmas pictures on (the sleigh)," Kurt Pfitzner said. "Some of them did it for their Christmas cards. We hope it will become a traditional thing they do with their families."
Next to the sleigh is Santa's mailbox where children can post letters.
"Santa is going to write back to every kid," Gorham said.
Festivities will begin at 3 p.m. on the 29th. Local artist Tina Marie will perform live as Nannie Bell's serves hot chocolate until 4:30 when every tree will be lit at once.
New mayor Jimmy Goodman will also speak, Kurt Pftizner said. After that, they plan on getting everyone to process up to the courthouse square, where the big tree there will light at 5 p.m.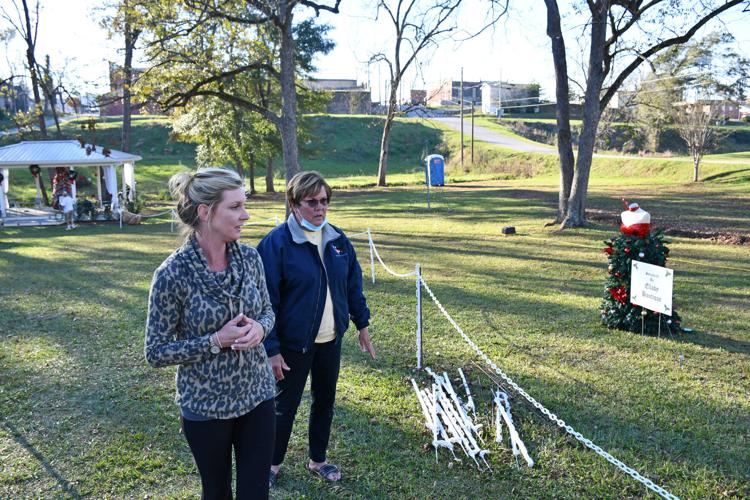 In the meantime, Gorham and Kurt and Leigh Pfitzner have been out setting stuff up in the park every day since Nov. 5, Gorham said. They've already received some enthusiastic shouts and waves from the cars and school buses that pass.
"It's exciting to see people get excited," Leigh Pfitzner said.
Last year, Kurt Pfitzner happened to be setting up in the park when a car pulled up.
"It was a younger couple and their kid and they stopped and asked if they could walk around the sleigh," he said.
The son had been crying about something, which the couple was apologetic about. When Pfitzner started taking pictures for the family and talking about Santa Claus, however, the son opened up. His mother began to tear up.
"She said 'I haven't seen him laugh in two years,'" Pfitzner said. "That's why we do it. If you get one of those, that makes every bit of it worth it."