ALEXANDER CITY — What does Huntington Beach, California; Dallas, Texas and Auburn, Alabama have in common?
Well, on Thursday each city had a resident at the opening day of Chick-fil-A Alexander City.
Lisa Barsh of Huntington Beach and Leslie Wright of Dallas have known Chick-fil-A operator Lois Ann Murphree for what feels like forever. The friends decided more than a month ago to fly in for opening day.
"This was a total surprise to her," Wright said. "She had no idea we were coming. Her face when she saw us [Thursday morning] was great."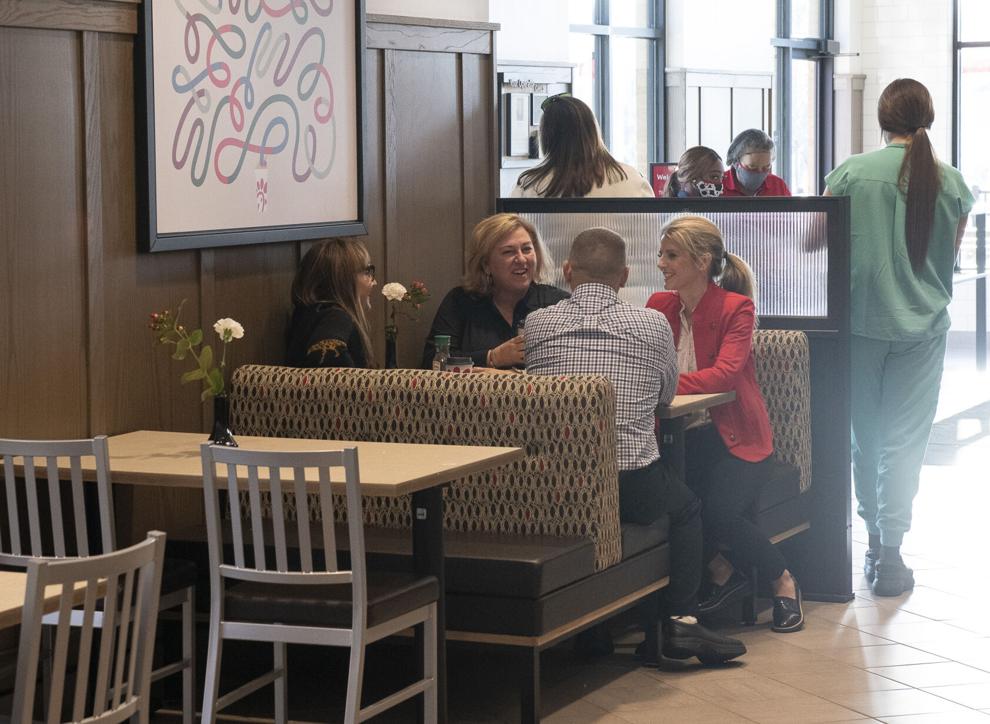 Barsh said the friends had been texting all week leading up to the opening but not letting in on the plans Barsh and Wright had made to reunite, even if briefly, with Murphree. The plan was to go through the drive-thru first but the line was backed up.
"But there weren't too many people in line to go inside, so we pulled in," Barsh said. "We talked to the first two kids in line. We were like, 'Can we be first?'"
Wright said they explained their relationship with Murphree to the guests who had been in line since 2:30 a.m., even showing red and white pom poms relating to Murphree's college cheerleader days.
"We just wanted to be right here when they opened the door and said, 'We will let you go in first and let you order first,' and we did," Wright said. "They were so gracious. They said, 'Absolutely.'"
Murphree took a brief moment with her friends at the opening but she had already been at work.
"It was a little crowded this morning," Murphree said. "There were cars in the drive-thru at 2:30. I went out and talked to them. No one seemed too upset. I just explained that we recognize local heroes now."
Instead of the camp out that has become custom with Chick-fil-A openings, the company has shifted to giving out the famous 'First 100' meal cards to local heroes. Murphree delivered the cards to Russell Medical Monday. On Tuesday at Russell Medical's fall festival the names of all 600 plus employees were put in a hat and 100 names were drawn to receive the cards.
Murphree was appreciative of the surprise visit of her former co-workers but Barsh and Wright got an award too.
"They get the award for traveling the longest distance," Murphree said.
Barsh and Wright's visit to Alex City will be short lived with plans to fly home Friday but will include stops in and around Alex City.
"She won't be able to show us around because she will be working, but that is OK," Barsh said.
Barsh and Wright have ideas of visiting Wind Creek State Park and a lakeside restaurant while in town and hope to come back when Murphree can spend some time with them.
But they weren't the only out of town guests at Alex City's newest restaurant Thursday morning. Auburn Mayor Ron Anders stopped inside to order. Anders greeted Murphree and her husband Micah. Anders knows the Murphrees through the their days of cheerleading at Auburn University.
Barsh and Wright said they frequent Chick-fil-As in California and Texas but have learned so much about the company and its values in conversations with Murphree over the last year.
"It's no surprise to us she fits in with it," Barsh said. "She is perfect, her husband, family, everybody, they are definitely great."
Wright shared the same sentiment about the Murphrees.
"They have great values, treasure the community," Wright said. "She lived the Chick-fil-A philosophy before getting involved with Chick-fil-A."