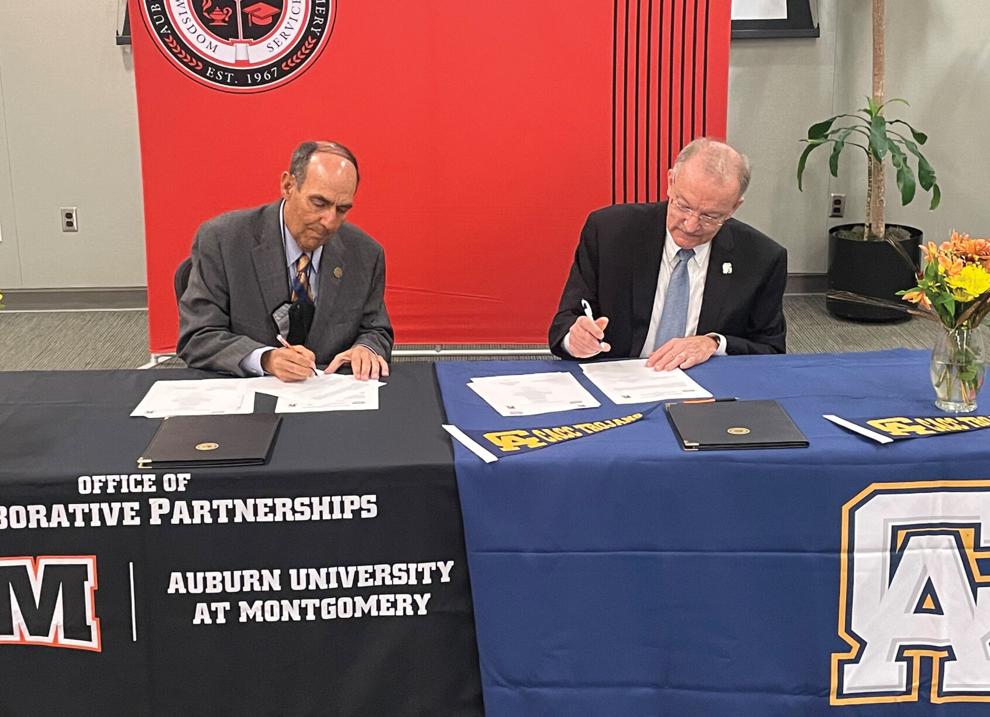 Central Alabama Community College (CACC) president Jeff Lynn and Auburn University at Montgomery (AUM) chancellor Dr. Carl Stockton signed a transfer agreement Wednesday in the Watson Robbins Taylor Center on the AUM campus. The agreement creates a collaborative transfer process that ensures the transfer of academic courses/credits and ongoing collaborative campus advising between CACC and AUM.
The concurrent enrollment program is intended to streamline qualified students' completion of both their associate and their bachelor's degrees in an accelerated manner. All concurrent AUM courses will be taught on CACC's campus and/or AUM's campus, during the time when students are completing their associate degree program. Once the students have completed the associate degree they will continue as AUM students to complete their bachelor's degree.
"This is a wonderful opportunity for our students to have a pathway set for them to transfer directly to AUM once they have completed their Associate degree," Lynn said. "Our goal is to provide the most seamless transition possible. We appreciate our four-year partners, like AUM, who want to invest in our students and provide options for them to continue their pursuit of higher education."
There are 15 concurrent pathways in which students can transfer:
Physical education
Secondary social science/history education
Secondary science (biology)
Secondary science (chemistry)
Secondary math
Secondary English language arts
Special education
Childhood education
Elementary education
Social work
General business
Psychology
Information systems
Exercise science- pre-PT
Exercise science- pre- non-PT
An unlimited number of CACC transfer scholarships will be awarded each year to new AUM students who transfer from CACC upon completion of their associate in arts or associate in science degree. An additional scholarship will be awarded to students who have a cumulative GPA of 3.0-3.49 ($1,000 per year) or have a minimum cumulative GPA of 3.5 ($2,500 per year).
One presidential scholarship, which covers full tuition and fees, will be awarded each year to a student who transfers from CACC to AUM. This scholarship includes the requirement that the scholarship holder participates as a transfer ambassador in the AUM admissions office, becoming part of a team that conducts campus tours and recruits new transfer students to AUM.