It's taken 44 years for them to meet, but Kathryn Thomas of Alexander City and Shelli Smith of Alabaster are sisters.
While the pair doesn't share a mother or father, the women share the journey of a Benjamin Russell Class of 1975 ring. Smith returned the ring to Thomas on Saturday 44 years after it went missing in 1975. The newfound sisters were at a loss of words as Smith walked up to hand the ring to Thomas who was extending a hug.
"I think this belongs to you," Smith said.
Both ladies had tears of joy running down their cheeks while greeting each other.
"Thank you," Thomas said.
"You are so welcome," Smith said. "I'm glad I was able to find you."
"I'm so glad you did," Thomas said.
Smith and Thomas wiped tears from each other's cheeks multiple times and repeated thank yous while trying to find words to describe their emotions.
"I knew my mother-in-law kept it for something," Smith said to Thomas. "She kept it for you."
"After all these years, I got it back," Thomas said to Smith. "You didn't know you had a sister. We are sisters now."
The ring went missing in October 1975 just months after Thomas graduated from Benjamin Russell.
"I had surgery at the hospital," Thomas said. "I took it off and put it in the bag. It was one of those cloth bags with drawstrings you put your clothes and belongings into. When I came out, it wasn't in the bag."
But Thomas' mother, Hattie Daniels Parker, thought it was somewhere else.
"My mommy didn't believe me," Thomas said. "She thought I didn't wear it to the hospital. I said, 'No momma, I had my class ring. I always wear my class ring.'"
Thomas' mother paid for the ring in 1975.
Smith was looking through jewelry with her children on Christmas Eve and came across the unfamiliar class ring.
"I didn't know who this belonged to," Smith said. "I've got my dad's and my husband's and my class ring and my mother-in-law's but didn't know who this one belonged to."
Martin Smith's mother, Margaret Smith, was a nurse at Russell Medical for 40 years. The ring was part of her jewelry collection until Shelli Smith found the ring 15 years ago. Shelli Smith held on to it and rediscovered it on Christmas Eve.
Smith started thinking about how to get the ring back to its rightful owner. She knew it belonged to someone from the Benjamin Russell Class of 1975 and it had the owner's initials inside it.
"How many people get their class rings back after 44 years?" Smith asked. "I thought somebody has got to know. I posted it on Facebook to see if anyone had a yearbook."
Thomas said her friends alerted her to the possibility the ring could be hers.
"We were just coming in the house Christmas night," Thomas said. "My girlfriend got it first then another classmate got it. A friend came in and said, 'I believe that's your class ring.' Everybody was going crazy. I said, 'It can't be.'" 
Thomas already spoke to her husband after getting news the ring was coming home about the placement of the ring on her left ring finger where her wedding band would normally be.
"I told my husband I'm not going to wear my wedding ring for a while," Thomas said.
Smith said Thomas could wear it on the other hand but Thomas said it wasn't good enough.
"I know, I know, but I can show it off easily on this hand," Thomas said. "I just want to brag."
Thomas said there are no words for how she feels to have the class ring back.
"It's indescribable," Thomas said. "It is a miracle to happen on Christmas Day."
The return of the ring is only the beginning of the connection Smith and Thomas share. As the sisters talked, Martin spoke up and said his mother worked as a nurse for 40 years in Alexander City.
"I was born and raised here," Martin said. "My sister still works there."
Thomas' eyebrows and ears perked up.
"What's her name?" Thomas asked. 
"Beverly," Martin responded.
"Where does she work?" Thomas inquired.
"The cafeteria," Martin said.
Before Martin could say anything else, Thomas interrupted.
"Get out of here," Thomas said. "My mom worked for 44 years in the cafeteria."
"My sister has probably worked there 30 years," Martin said.
Martin quickly pulled up a photograph of his sister Beverly Smith and tears started to flow again from Thomas' eyes.
"Oh my God," Thomas said. "This is unbelievable. (The ring has) traveled baby."
Smith asked if Thomas' mother was still living. Thomas quickly got her mother on speaker phone as the sisters huddled up.
"Momma, guess what?" Thomas asked her mother for all to hear. "Beverly Smith's brother is married to Shelli. Ain't that something? It was Beverly's mother who found the ring. You and Beverly worked together."
"(This story) just gets better," Shelli Smith said. "Hi, momma. Momma, she didn't lose her ring. It wasn't her fault."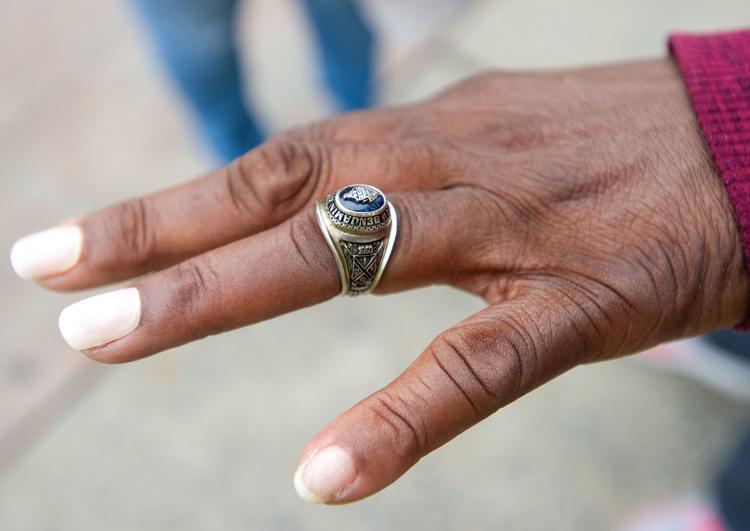 "I'm glad you got it," Parker said.
"I am too. My ring got missing when you retired," Thomas said. "I got your pride and joy on my finger."