People tend to cling to certain charities or philanthropic opportunities, but Alexander City native Betty Chambers prefers to give back to the community  through trash pickup. She and her late husband began doing Willow Point cleanups when they moved there in the 1990s and it's an interest that's stuck with her ever since.
"A lot of people do a lot of things to help others in the community through church work or volunteering at the hospital but I don't participate in those," Chambers said. "This is a way I can do something to give back."
Lake Martin Resource Association president John Thompson said Chambers is a good friend and an amazing neighbor always willing to help out.
"She cares about people and cares about the environment," Thompson said. "She feels strongly that roadside litter is something that's shameful and she's willing to get out on hot days and do something about it."
Chambers said she's one of those people who actually enjoys hot weather so it doesn't bother her to get out in the scorching Alabama sun.
"I'm a weird person that I love hot weather," Chambers said. "I'm out in it so much it doesn't bother me like it does other people."
When Chambers' husband got sick and then passed away, her litter patrol had ceased so she's enthusiastic to be back at it.
"All the pickups have helped but I think so many people are oblivious, everything from pickup trucks that have things in the back blow out or those that carelessly throw a cup out the window," Chambers said. "One thing I've noticed a lot of recently is they say our gloves and masks are disposable and for a lot of people that means throwing them on the road."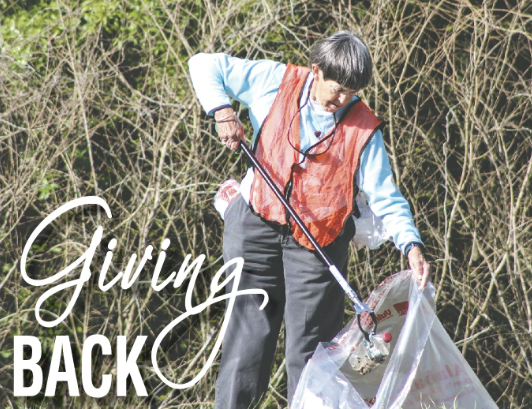 When Ralph Frohsin first heard about Russell Lands' Pride 63 Drive project, he immediately called Chambers to be his partner.
"He got a notification from Russell Lands and called and asked if I'd be interested in adopting a section near Kowaliga Bridge," Chambers said. "We've only been involved for less than a month and we've been out there twice. We've taken on the responsibility and we'll do it every two or three weeks."
Thompson said being willing to chip in is one of Chamber's ultimate strengths and one he admires greatly.
"She's always willing," Thompson said. "She calls me a couple days before (each cleanup) and asks, 'Where do you want me this weekend? Where should I go? What are the hot spots?' She's always willing to go where the most trash is. She's just one of these people you admire and wish there were lots more like her."
Chambers' positive attitude is important as well.
"You never hear anything negative out of Betty," Thompson said. "She has such a positive outlook on life and anything that comes her way."
While the idea of keeping roadsides clean seems common sense to Chambers, she can't understand why others are not involved.
"I wish more people would be aware of not throwing things out the window; it seems pretty simple," she said. "Last winter and starting into the spring we had several young groups out and it really helped. They were competing with each other and having a good time doing it. I hope we can get back to getting the young people involved."