Each day at 5:30 p.m., Alexander City resident Cecily Lauderdale drives an hour-long commute to the main USPS facility in Montgomery.
The shift lasts until 4 a.m., unless there's overtime. Then there's the hour's drive home.
"I might make it here at 6:00 a.m.," Lauderdale said. "I might sleep from 6 to 8, and then I have to get up and do virtual."
Last week, Alexander City Schools switched to virtual learning due to a rise in COVID-19 cases and a staffing shortage. All students are attending classes remotely through the end of January.    
Lauderdale makes breakfast and helps her younger son Gabriel, a fifth-grader at Radney, work on his virtual schoolwork from 8 to 10:30 a.m.
"Then I can go to sleep because (my older children) can maneuver on their own," Lauderdale said.
Seventh-grader Cederian and sixth-grader Wandaful may be old enough to work independently "with me reminding them," Lauderdale said, but youngest requires a bit of monitoring.  
"I have to make sure everything is turned in, submit things for him, make sure he does it," Lauderdale said. "But then I have to get back up at 2 p.m. if (Cederian) has to go to practice, go back to sleep, get back up at 5:30. Then I got to leave."
When classes first went remote at the beginning of the pandemic, Lauderdale took time off work, but relying on unpaid time off can only last so long, she said. Since then, Alex City Schools have gone remote twice now, and Wandaful and Gabriel have had to quarantine multiple times due to exposure with a COVID-positive student.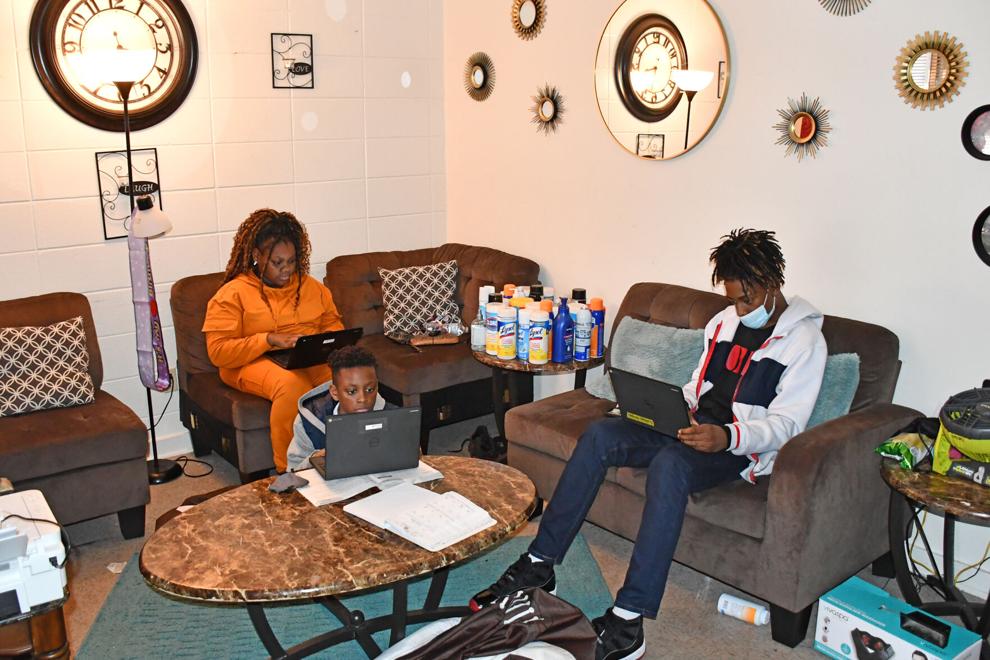 Joy Johns, whose daughter is in Alex City Middle School, works full-time in public relations.  
"(My husband's) fortunate that he can work from home a couple of days per week but for those parents who can't do that, it's difficult," Johns said. "It's very difficult."
A former substitute teacher for Alex City Schools, Johns still gets calls from the school system asking her to come in — especially now, with so many teachers having to quarantine.
"They called me eight or nine times even though I have a full-time job," she said. "There's not enough hands on deck to take care of the kids."
Johns said some of her friends who are parents of younger children have taken a leave of absence from work.
"I'm fortunate my daughter's 14 and I can leave her alone," she said.
Johns did, however, set up her daughter's school emails to be copied to hers.
"My daughter gets more emails between 8 p.m. and 2 a.m. than I do all day at work," she said. "My phone's dinging in the middle of the night all night. She gets more emails a day than I do at work and I do PR and social media. It's ridiculous."
Johns does credit Alex City Schools for what they've done to adapt, including continuing its school meals program and providing mobile hotspots to student without internet.
"I do want to reiterate that the school system is doing the best they can with the circumstances they've been handed," she said. "It's a Catch-22, it really is."
Meanwhile, despite her difficult schedule, Lauderdale acknowledges the risk of COVID-19 spreading in schools.
"I understand they hope and they want school to continue, but I really feel like they should just let it be out," Lauderdale said. "School just needs to be virtual, at least this whole semester. I mean, it's not under control yet."