Alabama COVID-19 hospitalizations reached an all-time high Monday with 2,802 patients hospitalized statewide, according to data from the Alabama Department of Public Health (APDH).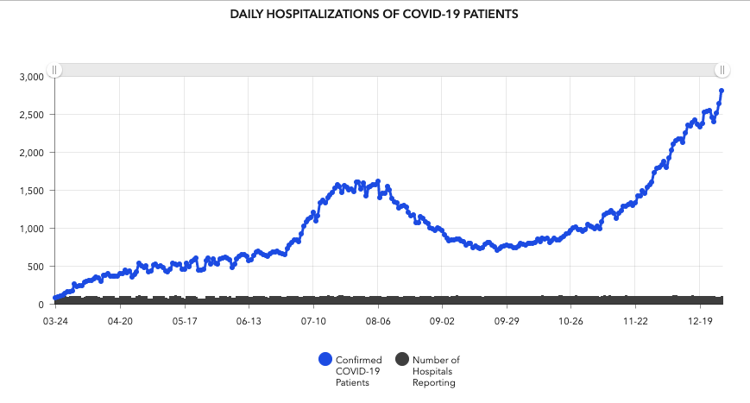 Hospitalizations have been on the rise since late September and have increased by over 10% in the last week alone, up from 2,527 patients the previous Monday. This is the second peak of COVID-19 hospitalizations in Alabama and has already far surpassed the first peak of 1,613 patients on Aug. 6.
Intensive care unit (ICU) occupancy in Alabama is currently higher than the national average, with 90% of ICU beds occupied statewide in the week ending Dec. 24, compared to 78% nationally, according to U.S. Department of Health and Human Services (HHS) data.
At the local level, six patients are currently hospitalized with COVID-19 at Russell Medical Center in Alexander City, while ICU occupancy is 100% according to HHS data. HHS does not hold ICU data for Lake Martin Community Hospital in Dadeville.
Meanwhile, new COVID-19 cases in Tallapoosa County have plateaued in the past month, with a current average of 15-20 new cases reported daily across a 14-day moving average. Daily COVID-19 cases have also begun to plateau in Elmore County, with an average of 70-80 new cases per day in the past two weeks. Daily case counts for both counties still remain far higher than their previous spring and summer peaks.
In Coosa County, daily COVID-19 cases fell Sunday to an average of two new cases per day from its peak of six new cases per day earlier this month.
National Institute of Allergy and Infectious Diseases director Dr. Anthony Fauci warned Americans earlier this month about a "very difficult January" in the wake of the December holidays. According to experts, new cases resulting from holiday travel and gatherings could take up to two weeks to emerge.
Statewide, 4,712 Alabamians have died of COVID-19 since the beginning of pandemic, including 4,120 confirmed COVID-19 deaths and 592 probable.