When reflecting over headlines from 2019, it's clear there were some notable losses in the area, such as the deaths of many key leaders in the area including Alexander City Mayor Jim Nabors, but there was also growth. From a 12-year-old Radney Elementary School student having the courage to testify before the a House committee to the Alexander City City Council approving resolutions to annex areas, there's no doubt the area has some brightness in its forecast.
Below is a compilation of stories that highlight the year in the Lake Martin area.
Headlines look forward in Tallapoosa County
Projects underway at former Russell offices
Alexander City is in the process of renovating the Russell Sales Office into a municipal complex.
Renovations started in December.
In October the City of Alexander City awarded Central Contracting's $9.3 million bid for the municipal complex on U.S. Highway 280 that will consolidate all city departments.
JMR+H Architecture vetted the Wetumpka company after the city decided to look into it after receiving its bid, which was the lowest bid out of four companies in September. 
Although the council approved the bid, it still can choose which alternates it would like to pick and which things it may choose to do in house instead.
Architects Jeff Cahill and Kevin Baughn vetted the contractor which has been properly researched on its quality of work, reputability of subcontractors, licensing status and more. The architects' recommendation is Central Contracting will do good work for the municipal complex.  
The renovations will see the consolidation of most of the city's departments under one roof including the police department, fire department administration, public works, utilities and employees in the current city hall.
The council also sold the old Russell Main Office to Amadeus Development Group LLC. Officials with Amadeua will make a presentation to the council about its plans at the Jan. 6 council meeting.
Alex City annexes land; Russell Lands plans for new development
The council also approved resolutions during the year to island annex Wicker Point and a new development in the Sturdivant Creek area.
Officials with Russell Lands on Lake Martin are planning for the future with a new development at Wicker Point. The project will include about 1,500 acres, 12.5 miles of shoreline on Lake Martin and about 450 lots, according to Steve Forehand, vice president and general counsel for Russell Lands on Lake Martin. 
The company has been developing neighborhoods around Lake Martin for decades with developments including Willow Point, The Ridge, Willow Glynn, Trillium, Windermere, Raintree and River Oaks. It is planning its next steps to grow. 
"We have known for sometime as The Ridge reached buildout we would be looking at another large scale development," Forehand said. "Wicker Point is it. It won't be near the same size as The Ridge."
He said The Ridge has a total of about 800 lots and still has interior lots to build on. 
The Wicker Point area is largely undeveloped but has a few cabins Russell Lands has leased for decades. Utilities and roads will need to be built to accommodate the development.
"It is in an area without any real infrastructure," Forehand said. "It requires a lot of planning and we are in that process. There is still a lot of planning to do. It is not a quick and easy process."
Plans for amenities for the project are still in the development stages.
The annexation of Wicker Point will have to be approved by the Alabama legislature.
It is the same thing the council asked of the legislature for the Miner's Cove development on Sturdivant Creek.
City public works director Gerard Brewer, revenue manager Ward Sellers and planning commission chairman Mark Lamborne each told the council it would be advantageous to annex the property, especially Miner's Cove, owned by River Cove II LLC, which wants to develop it.
Sellers said the "rosiest" projection of economic impact to the city would be $360,000 year following the complete buildout of Miner's Cove, which would take 17 years, assuming six houses a year are built.
"That's building permits, sales taxes on building materials, the water impact fee and property taxes," Sellers said.
Brewer said it would cost the city $91,000 annually to maintain infrastructure after the complete buildout.
"Even if we cut (the economic impact) in half, we'd still be ahead," Sellers said.
Brewer said the Miner's Cove project would result in approximately 80 lots at full buildout.
Dadeville sees progress on courthouse square renovation
The Dadeville City Council has been talking about the courthouse square renovation project for five years.
But the wait is over as worked started on the project this past summer.
The project involves everything visible around the courthouse in Dadeville but not the buildings. 
"There will be all new sidewalks, lighting and landscaping in the corners," Dadeville Mayor Wayne Smith said. "There will be all new paving. The lighting will be real nice. There will be 12 new cast light poles with receptacles at the top and bottom. There will be irrigation for the landscaping."
Tallapoosa County and the City of Dadeville partnered in applying in 2015 and 2016 for TAP (Transportation Alternative Projects) grants with ALDOT. The city was going to provide $135,000 in matching grant funds and engineering fees and the county was going to provide $94,000 in matching grant funds and fees. With engineering fees and testing already paid for, the bid brought the project to $700,000 over budget. 
ALDOT covered the $700,000 and Smith said the project should be finished by mid-January.
Russell Medical joins UAB Health System
Russell Medical in Alexander City entered into a management agreement to become a member of the UAB Health System following action in November by the respective boards of both organizations.
Russell Medical joins other Alabama hospitals as part of the UAB Health System (UABHS), which includes UAB Hospital, UAB Highlands Hospital, UAB Callahan Eye Hospital and management relationships at Medical West, Baptist Health Montgomery, John Paul Jones, LV Stabler and Bryan W. Whitfield hospitals, along with affiliate relationships with three additional hospitals in the state.
"Russell Medical and the UAB Health System have a lot to offer each other," UAB Health System CEO Will Ferniany said in a release. "Both parties bring strengths and assets that will improve healthcare in the Lake Martin region."
Russell Medical is not being sold; the ownership of the hospital and its assets will remain the property of Russell Medical. Employees will remain Russell Medical employees on Russell payroll and benefits. Wage rages and benefits will remain.
Russell Medical has been a strategic affiliate of UAB for several years, participating in cancer and telemedicine networks along with outreach in a number of medical specialties, including cardiovascular care, urology and surgery.
"We have a long history with UAB that has served this hospital and the residents of Alexander City and the surrounding area well," Russell Medical CEO Jim Peace said. "The new management agreement only strengthens that relationship and will help ensure RM continues to deliver the exceptional medical care that our community expects."  
Notable deaths
Jim Nabors
Alexander City Mayor Jim Nabors died suddenly in May from complications following emergency surgery to remove an intestinal blockage at the age of 76. 
He was remembered by many for his years at Russell Corp. and running for mayor to try guide the city to a new future. 
Alexander City Chamber of Commerce president and CEO Ed Collari said the city was fortunate to have someone of Nabors' qualifications serve as mayor.
"We were so blessed to have the chief financial officer of a Fortune 500 company to serve as mayor and do it without taking a salary," Collari said. "That shows what kind of passion he had. You always felt he was the smartest person in the room. You knew he would give you good advice. It's a big loss. It's a tough day."
Councilmember Tommy Spraggins was named mayor following Nabors death because of his position as council president. Chris Brown was appointed to the city council to serve the remainder of Spraggins term and Tim Funderburk is now council president.
Dick Harrelson
Dick Harrelson was known for never missing a day of work or meetings and his love of Dadeville.
Harrelson died in December and was serving as a Dadeville councilmember, and it's a councilmember and friend who summed up the community's feelings for Harrelson.
Friend and fellow Dadeville councilmember Roy Mathis said he met Harrelson in 1968 when Mathis was working at the post office across from McKelvey Chevrolet. They had been friends ever since.
"Mr. Harrelson was one of a kind," Mathis said. "He told you like it was and how he felt."
While the two sometimes disagreed at city council meetings, they were still good friends. Mathis remembered a time he was going on a mission trip to another country and Harrelson told him to serve First Baptist Church in Dadeville instead. 
"That's how he felt about things because he felt like we needed to take care of Dadeville first," Mathis said. "He loved Dadeville and he put Dadeville first."
Don McClellan
Don McClellan was known to cut grass on a softball field as mayor and jokingly threaten to cut those who teased him with his pocket knife.
McClellan, 74, a two-term mayor of Alexander City and the executive director of the Lake Martin Area Economic Development Alliance died in June.
Tributes gushed forth following McClellan's death.
"His reputation and his character made people trust him and love him," said former Alexander City Mayor Barbara Young, who unseated McClellan by 56 votes in a 2004 runoff then worked with him to help bring jobs to the area.
Young recalled their campaign against each other as civil and respectful.
"He was always a gentleman," she said. "When I told him I was going to run he said he hated to hear that but he understood. It was a very positive campaign. There was never any criticism from Don and he didn't have any from me."
"He had a way of forming relationships around the state that benefited Alexander City that people don't know about," said Marshall Griffin, a retired board member of the alliance. "He didn't care about getting the limelight. He worked to create an alliance between Alexander City, Dadeville, Tallapoosa County and Coosa County to form a stronger economic development program. You need to look at that from a regional standpoint. Companies want to deal with regional groups, not just one little city."
Alfred Cooper
Rev. Alfred Cooper considered himself more fortunate than many black people in the South during the Civil Rights era and when schools were being desegregated.
The former Laurel assistant principal and football coach was involved in that effort while serving as a member of the Alexander City Board of Education and recalled there were no riots, unrest or bloodshed. He died in March but spoke to The Outlook in February.
"When that time came, we just integrated and went on with the regular work that we normally did," Cooper, then 90, said. "We didn't have any problems. We just went on with the program as laid out by the board of education."
Laurel and Benjamin Russell merged in 1971, although it was 17 years after the U.S. Supreme Court ruled the policy of "separate but equal" schools was unconstitutional.
Having the highly respected Cooper in a position of authority quite likely kept the integration of Alex City schools calm.
"Quite naturally he contributed to it, being on the board and at that time he was the only one of color that was on it," said Cooper's wife Edith, 88.
In May 2013, Cooper retired from the school board and his final act was to make a motion to name Jim Davidson the new principal at Benjamin Russell.
"I don't think there could ever be anybody who could take his place," then-superintendent Dr. Tommy Bice said at the time. "I can't fathom what we'll do without his wisdom, guidance and counseling."
Joe Ennis Berry
Joe Ennis Berry never served as mayor, an officer in the military or police chief but, as an African-American, he laid the groundwork so others could.
He served on the beaches of Normandy in World War II and in the patrol cars of the Alexander City Police Department in the 1960s as one of the first black police officers in town, both before blacks could work with whites in the same position.
The pioneer and Tallapoosa County native died in January at his home at the age of 94.
Berry served the United States at a time when men and women of color were often considered second rate and he did so while he was too young to enter military service. He signed up for the army as a young man — just 16 — in February 1943.
"You were supposed to be 18 years old, but I was always sort of a tall fellow, so they didn't know I wasn't 18," Berry explained to The Outlook in 2014.
Retired Alexander City police chief Willie Robinson can remember Berry pulling into his yard as a child.
"I was 12 or 13 living at the end of I Street," Robinson said. "He pulled up into the yard and talked to my dad. I was happy to see him there in a sharp uniform. At that moment is when I made my decision to be a police officer."
Berry and Robinson served at the Alexander City Police Department together before Berry retired.
"I learned a lot from him," Robinson said. "He was a great asset to the police department and city. He was a good, loving, family man. He was professional and a great leader for all the young guys coming up."
Robinson said Berry helped change the idea of African-Americans serving as police officers.
"He earned the respect of those he worked with and for," Robinson said. "He always told me, 'Treat people like you want to be treated and you will get along good. Do that and you will be alright. You don't have to arrest everyone you come into contact with.'"
Carl Pritchard
Jacksons Gap councilmember and Tallapoosa County native Carl Pritchard died in August after a battle with cancer. Pritchard owned Alabama Funeral Homes in Dadeville before selling the business several months before he died. The Jacksons Gap Town Council selected Frank Lucas to serve the remainder of Pritchard's term.
Lucas has lived in Jacksons Gap for 21 years and was in public service for 35 years through the Alexander City Police Department, the Tallapoosa County Sheriff's Department and as the Tallapoosa County Circuit Clerk.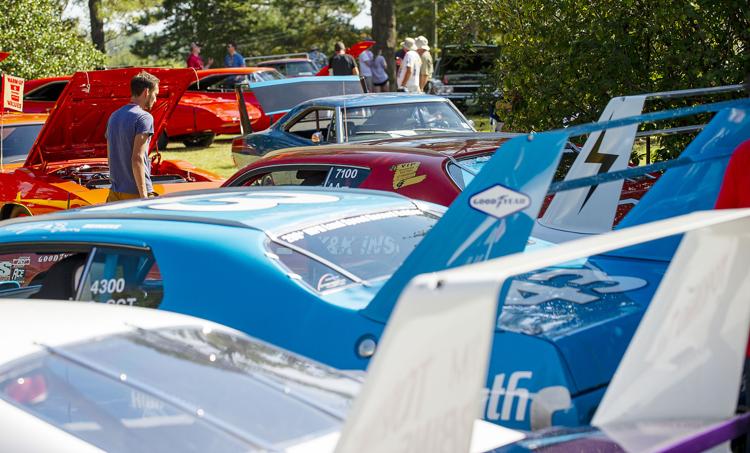 Mopar heaven
Some might have thought Road Runner and Wile E. Coyote were having a convention in Alexander City with all the decals and stuffed animals in old MOPAR cars around town in October. But no, it was the 50th anniversary of the Dodge Daytona and the Aero Warriors were in town for a reunion.
Tim Wellborn is a well-documented MOPAR fanatic with the Wellborn Musclecar Museum located in downtown Alexander City and he even still owns the car he first dated his wife Pam in. Wellborn's father was a MOPAR gearhead too.
The car was designed by Dodge to make it competitive in NASCAR in the late 1960s and early '70s. Dodge went so far as to lose money on the production version of the car to put it on the track.
Wellborn said Dodge manufactured 500 of the Dodge Daytonas and 1,920 of the Plymouth Superbirds; that was in 1969 and 1970. Alexander City was home to 220 of the famed cars for the Aero Warrior Reunion.
"It is pretty much a dream come true," Wellborn said. "This is the largest gathering of these cars ever in history."
And there are more out there.
"Most of them are surviving," Wellborn said. "There were known to be a special car even from Day 1. I would say 80% are surviving."
Notable crimes
The area saw crimes and developments in cases that shocked many.
Arrests made in animal cruelty case 
Sixteen cats and 14 dogs were delivered to the Lake Martin Animal Shelter on Monday evening following an animal cruelty investigation by the Dadeville Police Department and the Village Street pet owners surrendered their animals to authorities in August.
Bobby Wayne Caron, 26, Cinde Lorett Caron, 45, Jeremy O'Neal Caron, 27, and Sharon Walker Browning, 63, all of Dadeville, were each charged with two counts of aggravated cruelty to animals and two counts of cruelty to animals.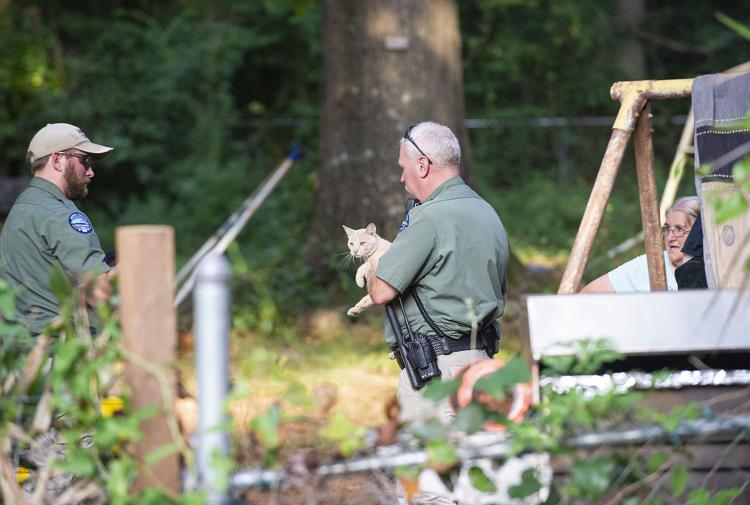 The animals were chained to trees in the Caron yard, housed in tiny cages inside the home and without the ability to eat and drink.
The animals were taken to the Lake Martin Animal Shelter and director Mia Chandler the animals were in dire need.
"They skipped over the fresh food and went straight to the water," Chandler said. "They just started lapping and lapping it up." 
Clampitt arrested on traffic stop during manslaughter trial
Just hours after a judge declared a break in Amy Clampitt's manslaughter trial in June, Clampitt was arrested during a traffic stop in Dadeville.
"While running her license it was discovered she had child support warrants from Clay County," then Dadeville police chief David Barbour said.
Fifth Judicial Circuit District Attorney Jeremy Duerr said traces of methamphetamine were found on foil when the vehicle was seized and inventoried.
Clampitt was found guilty of manslaughter just days later and sentenced to 40 years for her role in the 2017 death of boyfriend Jimmy Dugan.
College students arrested for abuse of CACC pond duck
A duck at Central Alabama Community College was killed by CACC students.
Jacob Thomas Frye of Cartersville, Georgia and Thomas Grant of Wetumpka were CACC students when authorities said the pair took the duck during a party thrown by CACC students. Ultimately the defendants were granted youthful offender status but not before Fifth Judicial Circuit District Attorney Jeremy Duerr strongly opposed to the defendants receiving the status.
"The ducks are kind of like mascots," Duerr said. "People go to the pond to feed them all the time. I go with my child to feed the ducks."
In addition to the public nature of the ducks, Duerr said the crime of aggravated cruelty to animals committed by Frye and Grant was especially brutal. Law enforcement at the time of the arrests said the pair used a baseball bat on the duck. Although the assault did not kill the duck, it left it in dire need of help.
"It's a series of a few events ultimately the duck was found in a bag in the woods the next day still alive," Duerr said. "The suffering of the animal was great. The injuries were so bad the vet had to put it down."
Meth lab busted in StillWaters
Residents in StillWaters were rocked one Sunday evening in August as a meth lab exploded in one of the condos.
The late evening explosion on Martin Terrace in StillWaters sent the Franklins scrambling to clean up the lab and one with chemical burns as a result of the blast.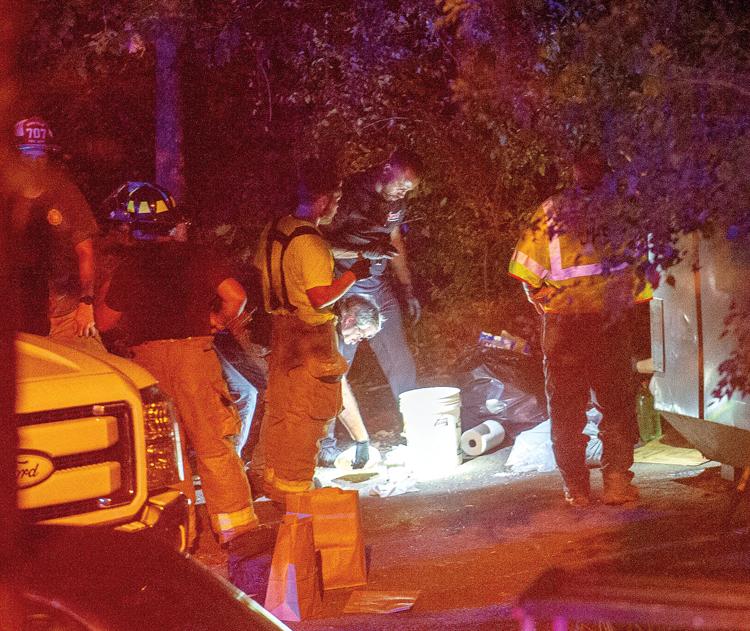 "It was a shake-and-bake lab," Tallapoosa County Narcotics Task Force's Fred White said after the explosion. "It looks like it exploded in the bathroom. It was more of a pressure explosion. It caused the ceiling tiles to be pushed out of place and blew out the back sliding glass of the condo. It was a lot of pressure."
Residents of Martin Villas evacuated and waited outside while law enforcement and firefighters made sure everything was safe including the area around the dumpster used by residents.
"It looks like they tried to dispose of some of the materials in and behind the dumpster," White said. "Inside the dumpster was debris that splattered with chemicals in the explosion and behind was some meth oil."
Andrew Keith Franklin, 44, and Alura Rashell Franklin, 21, were arrested and charged with unlawful manufacture of a controlled substance, second-degree possession of marijuana and possession of drug paraphernalia. 10 charges of reckless endangerment are also being filed against the Franklins as were chemical endangerment of a child, illegal purchase of a precursor chemical and conspiracy to commit a controlled substance crime.
Witnesses on the scene of the explosion said the Franklins left with a baby.
Inmate gives birth while awaiting murder trial
A Coosa County capital murder suspect gave birth in May while waiting in jail for trial.
Latoni Daniel was in the Coosa County Jail when the baby was conceived. An investigation revealed she conspired with a male inmate to get pregnant while in custody in the Coosa County Jail to compel leniency and perhaps be freed on bond while awaiting trial, sheriff Michael Howell said.
Daniel, 27, of Alexander City could face the death penalty if she is convicted of the December 2017 robbery and shooting death of Thomas Virgil Chandler, 87, of Goodwater. Daniel, who is now being held in the Montgomery County Jail without bond, is a co-defendant with LaDaniel Martel Tuck, 28, of Alexander City in the capital murder case.
Daniel had been in custody a year when it was discovered she  was four months pregnant. 
Parker found guilty
A jury took 41/2 hours to find Anthony Davon Parker guilty of manslaughter in October in the March 2017 shooting of 18-year-old Quentavious Arrion Reese.
The Fifth Judicial Circuit District Attorney's Office sought a verdict on reckless murder.
Authorities said Parker fired the shot that entered the vehicle Reese and three others were traveling in on Robinson Road when Reese was shot in the back passenger seat of a car.
Parker was with friends shooting guns across Robinson Road when a car where Reese was a backseat passenger was struck in the head by a gunshot in 2017.
Schools see great stories
Dreams come true for Jim Pearson student
Jim Pearson Elementary School second-grader Blakeley Moseley was surprised in April when it was announced she and her family were going to take a trip to Disney World courtesy of Magic Moments.
"It's special for Blakeley because she's been through so much," her father Justin Moseley said. "She was born with a rare chromosome disorder and she's been hospitalized a lot with certain surgeries. She's been through so much."
Magic Moments is an Alabama nonprofit which grants wishes for children with chronic life-threatening illnesses.
Custodian gets new ride
Jim Pearson Elementary School custodian Kinnie Morris has new wheels and plenty of space to drive his grandchildren in a car donated to him by the community.
Morris was surprised in August with a 2015 Dodge Journey Crossroad outside the school while students cheered him on to music.
"I love it," Morris said. "My grandson (here) loves it, so that's it."
The community raised more than $9,600 on GoFundMe in July for Morris after Jim Pearson teachers heard him talk about problems he was having with his 1997 Buick Park Avenue.
Morris has worked at the school for 24 years and was surprised with the news of a car in July. Teachers Ellen Price and Katie Dark had multiple dealerships reach out to them and prepared getting a car for him during the last month.
Sixth-grader successfully lobbies in Montgomery
She is not old enough to sign documents, drive or vote but if Radney Elementary School sixth-grader Julia Walters was able to change the State of Alabama Education budget for 2020.
Walters skipped school and awards day in May and traded in jeans and tennis shoes for a dress to testify in front of the House Ways and Means Education Committee in Montgomery during a public hearing for House Bill 199. 
House Bill 199 was the fiscal year 2020 education budget the Alabama House of Representatives is considering. Walters advocated a change in the budget to allow elementary schools to apply for grants for the Alabama Math, Science and Technology Initiative (AMSTI) Robotics programs. She brought along a VEX robot and display board she and other members of the robotics team created at Radney for competition to show legislators what she wanted and told committee members what the robotics program means to her.
"I learned more about science technology, engineering and math through robotics than I did in classes, including STEM, period," Walters said from the podium in front of the 15 members of the committee and more than 100 watching in the gallery. "I am asking you to amend the language on Page 46 to allow elementary schools access to the AMSTI grants. As I understand it, someone has to move to amend it and then someone has to second it. Then the committee has to vote on it."
Walters went a step beyond just asking for a change in the budget.
"I have an amendment already prepared to allow elementary schools equal access to the funds already there," Walters said. "I am asking that one of you introduce my amendment (today)."
Days later the committee made the change to allow elementary schools to apply for the funds and the budget was passed by the legislature.
Tax remains in place for education capital projects
The Tallapoosa County Commission unanimously passed a resolution to leave in place a 1-cent sales tax to supply Alexander City and Tallapoosa County schools funding for $85.8 million in capital projects.
It is something commissioner T.C. Coley said will have a long-lasting effect on Tallapoosa County.
"I have been around the county commission for about 20 years now," Coley said. "There are very few votes that have such significance as a tax. This area has gone through a lot in the last 20 years. We have seen our county change substantially. The population hasn't dropped a lot but we have seen a lot of changes. There is no white knight on a white horse coming to save us. We are going to have to save ourselves. In doing so, we are going to have to make some sacrifices."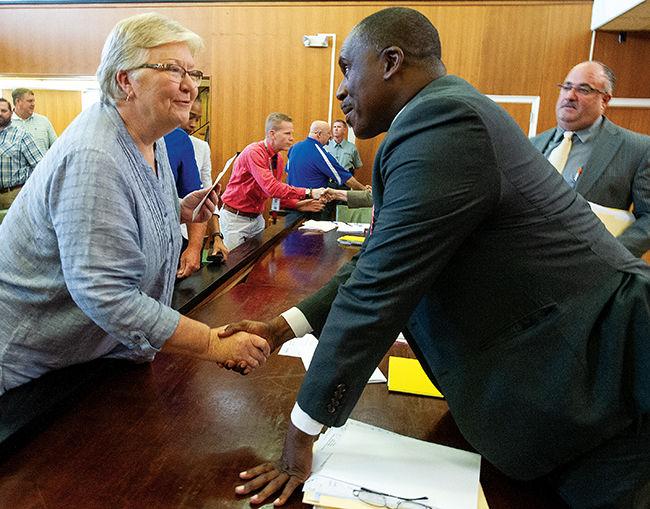 The tax will be used to construct a new Benjamin Russell and renovate other facilities for the Alexander City Board of Education.
The Tallapoosa County Board of Education will use the funding to build an auditorium at Horseshoe Bend School, a gymnasium and field house at Dadeville High School, renovations at Dadeville elementary and high schools and to construct a new elementary school in Reeltown.