No less than three defenders had DeMarcus McNeal pinned in.
It appeared a certainty he'd be stopped after a six-yard gain for Benjamin Russell, who was inching closer to go-ahead field goal range.
But a silent crowd who thought the play was dead soon rose to an uproar. McNeal dipped his shoulders, planted his feet and spun free of the trio of Aggies and into sweet open grass.
He sprinted 36 yards to the end zone to give the Wildcats a 35-28 lead with less than a minute to play, an advantage they would not relinquish.
Benjamin Russell coach Aubrey Blackwell said he, like the crowd, thought the play was dead in the water.
"No I didn't, but I know his heart. I know how big his heart is. And I know how hard he runs and I know how bad he wants it. Even when we were talking about blocking a punt the drive before, he was right at my hip saying, 'Coach, I'll block it. I'll win this game for us.'"
A sack by senior defensive tackle Gavyn Vickers put the Aggies in a third-and-19 the next drive to effectively seal the victory.
Benjamin Russell defeated mighty 7-2 Sylacauga on senior night in its final game of the 2021 season after reigniting a rivalry that was dormant for 14 years. 
"These kids fought for this one. They earned it," Blackwell said. "They fought in practice, they got better and better every week. And this is for our seniors."
McNeal put up 154 yards on just 14 carries with two touchdowns. Sophomore running-back-turned-linebacker Jy Hicks added 35 yards and two scores, while most of the Aggies' production came from running back Maleek Pope. Pope had 167 yards and two touchdowns on the ground.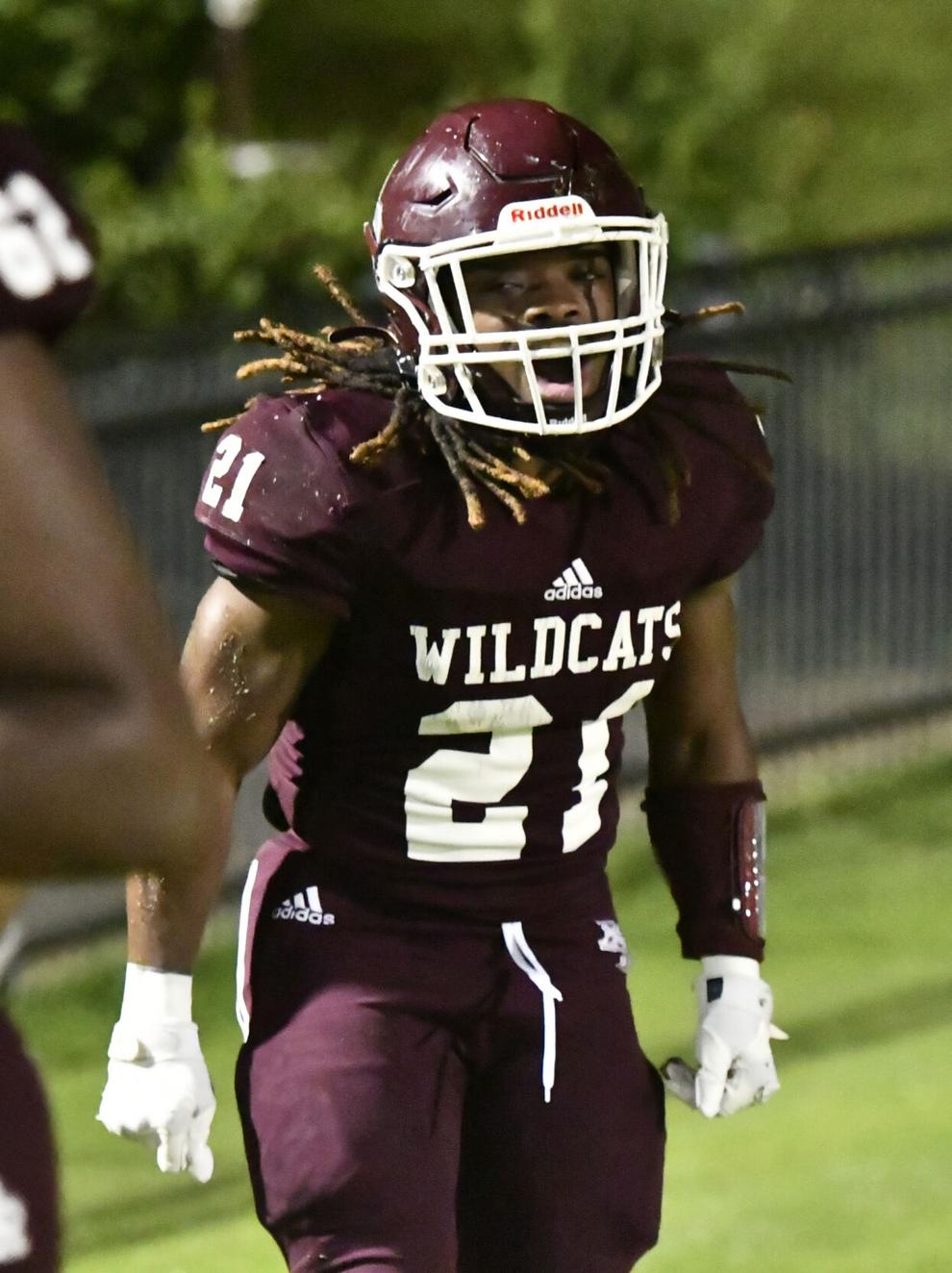 It would have been easy for BR to bow out one minute into the third quarter.
Trailing by a single point at halftime, the Wildcats received to open the period but fumbled on kick return to set up Sylacauga at the 36-yard-line. Pope took the ball around the left end, through one stiff arm and separated for a touchdown run to put the Aggies up 21-13.
The Wildcats got the ball back and didn't show much life for two plays, reaching third-and-5.
But McNeal refused to let Sylacauga gain control. Benton found him in the flat and the back shook a defender shoeless before gliding 55 yards up the left sideline to set up a two-yard scoring plunge and ensuing two-point conversion for Hicks. The score was even at 21 with 9:09 to play in the third quarter.
"I felt like I needed to do something to push my team, to get them started, get us motivated so we can get this game going," Mcneal said. 
Pope gashed the defense again off right end this time for a 64-yard score. Benjamin Russell fired back with a 14-play, 71-yard drive that took eight minutes off the clock. Hicks converted two third-downs and fourth-and-goal from the 3-yard-line on the ground, with his teammates rallying behind him to push piles. With 11:51 to play, the tally was 28-28.
"We're trying to get him forward, get a first down, stop the clock," junior offensive guard Zy Owens said. "Go back out there and score again."
Owens was one of five players who played both sides of the football Friday for Benjamin Russell, splitting his time between guard and defensive tackle.
Throughout the game, Benjamin Russell relied on its power "wing" formation, from which all the team's biggest and most important runs came.
Due to injuries a hodge-podge of backups and two-way players occupied key positions in the set. Cornerback Ty Williams typically works at quarterback in those looks for the Wildcats but sophomore wide receiver Chris Foster had to step in this week, guiding the offense around him downfield and breaking off a few chunk runs himself. 
He picked up a few first downs catching the ball at his usual receiver spot when Benjamin Russell went back to a spread look.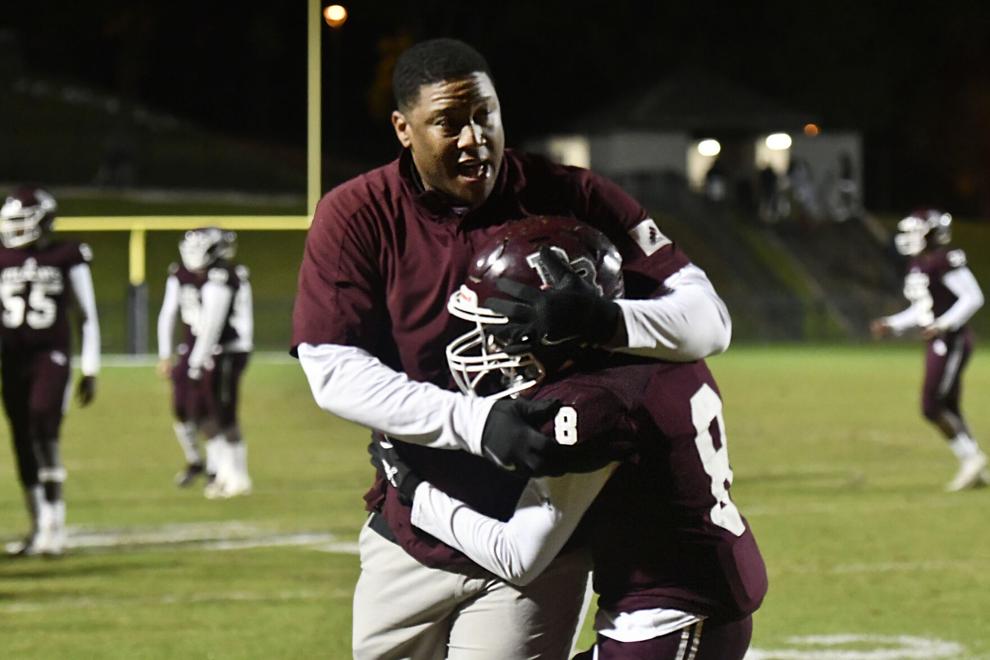 "We practiced hard all week," Foster said. "We knew we were down a couple players. I just did what I had to do to get the W."
A call came bellowing down the sideline as Benjamin Russell faced fourth-and-1 at its own 47-yard-line on its opening drive, the voice was that of defensive coordinator Kendall Lacey.
"Go for it. Go for it," he shouted at Blackwell.
The head coach heeded his advice and dialed up a counter play out of wing for McNeal, who hit a crease on the left side of his offensive line and bolted 53 yards for an early game-tying touchdown.
"They were amazing," McNeal said about his offensive line. "The holes were open, I could hit them clearly. There were a couple miscommunications here and there but they blocked outstanding tonight."
McNeal's jaunt came in response to a quick scoring drive to open the game for the Aggies, with quarterback Brayson Edwards converting a fourth-and-goal from the 6-yard line.
Sophomore linebacker Caiden Hyde entered into the backfield later that second quarter and found a canyon-sized lane off the hip of right guard Zy Owens and outran the Aggies' defense for an untouched 46-yard score to put the Wildcats ahead 13-7 after a botched extra point attempt.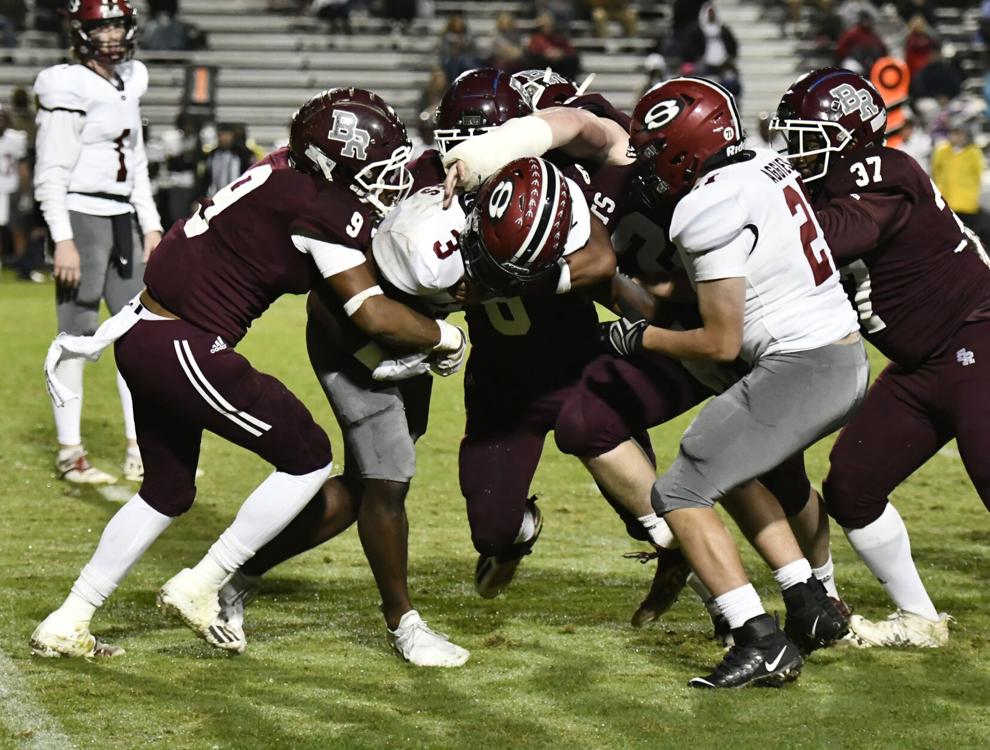 "It's a mentality that we started a couple weeks ago and we wanted to finish that," Blackwell said about the wing. "It's just one that we knew we had to do tonight, the conditions we had on the field, the way we've been playing defense, the way our offensive line has played these last three or four games. We were where we wanted to be and we had confidence in it."
A 58-yard post-route bomb from Edwards to wide receiver Tavares Lauderdale gave Sylacauaga a 14-13 lead at halftime.
With the win, Benjamin Russell closes its season 3-7, picking up one more win than it did in 2020 with its brand new coaching staff. A bevy of key players return in 2022, including star quarterback Gabe Benton, wide receivers La'Bronski McKinney and Corri Milliner, Hicks, Owens, Foster and Hyde.