If you didn't know its significance, you would drive by the brown warehouse turned music recording studio on Avalon Avenue in Muscle Shoals.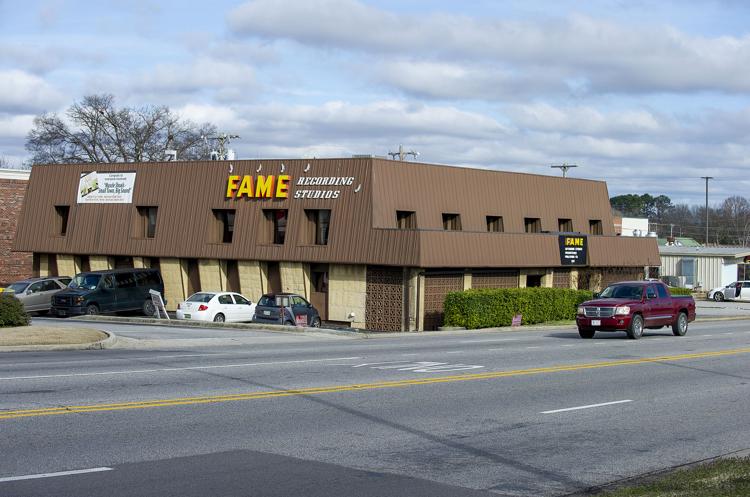 It is famous worldwide for leading the likes of Areatha Franklin, Duane Allman and the Allman Brothers, Jerry Reed, Jason Isabell, The Gatlin Brothers, Shenandoah, and Wilson Pickett to big-time music careers. 
If those big-name artists' successes are any indication of the Wilson Brothers' future, "It All Looks Good From Here." 
FAME Recording Studios' history and its Muscle Shoals Sound are something Alexander City natives Chad and Kyle Wilson have wanted to be a part of.
"It is something Kyle and I have always wanted to do," Chad said. "Being from Alabama, it just makes sense."
The Wilson Brothers have been in Nashville for much of their musical career but chose the famous recording studio for their second album. Both Wilsons agree it might be best they came here after being in the industry for awhile.
"I'm not really sure why we didn't come here first before going to Nashville," Chad said while sitting in a waiting room at the studio Sunday afternoon. "We didn't know then what we know now. It's been a learning experience."
Duane Allman camped in the parking lot hoping to get a chance and did when he showed Wilson Pickett a version of Pickett's "Hey Jude." It didn't take long before Allman was playing with Pickett inside under the direction of FAME owner Richard Hall. Chad might have wanted to start a career like Allman's but Kyle said coming to the famous Studio A at FAME Studios is better both for the brothers and the music they hope to produce over three days.
"I think if you came here first you wouldn't appreciate it," Kyle said. "You would think of it more as a job trying to get a product than actually creating something."
The brothers love the freedom Muscle Shoals gives them to produce their music.
"It's a place to create music," Kyle said. "That is the reason everyone came here is the magic of it. It didn't run stale. They kept the energy and vibe going. It is what you look for. That is what FAME did for a lot of people. They came here to cut good records before they could cut bad ones."
The relaxed nature allows the brothers to get away from the fix it later model of recording in Nashville.
"In Nashville, they would move a note and instead of just playing it naturally," Kyle said. "It loses the magic. It is why you hire session players because they want to capture it in the moment and hit it right."
It's the energy of shows and moment The Wilson Brothers want to capture following in the footsteps of the great acts before them. Chad and Kyle with the help of producer Jay Tooke and band manager Paul Johnson whittled down 36 original songs the brothers either wrote individually or co-wrote to 12 to record a second album — a tough task.
"There's a lot of songs we had to leave off of it that we love," Chad said. "They just didn't make it."
The love of an entire music album is another reason for coming to the relaxed FAME Studios.
"The business model in Nashville has gone to put out a single, if it does well put out another single; If that does well put out another and it if does well put out another," Chad said. "You got some artists putting a single a month. That is 12 songs a year.
"Kyle and I have always been a purist. We used to buy records and love the entire album. Randy Travis, I remember that first album. I remember when Columbia House released Guns N' Roses, Garth Brooks. I learned every song. It is the reason we stuck to our guns. There are a lot of things we can comprise on but we aren't going to on that."
Getting away from the Nashville model allowed a family atmosphere. Chad's wife Ashley and children PresleyMae, 7, and Madeline, 4, stopped by for a few hours to take in the moment. The girls were oblivious to the history of the building but played with Chad in the sound booth wearing pink hair bows taking photos of each other and the music happening through two windows covered in decades of film stacked to prevent noise contamination.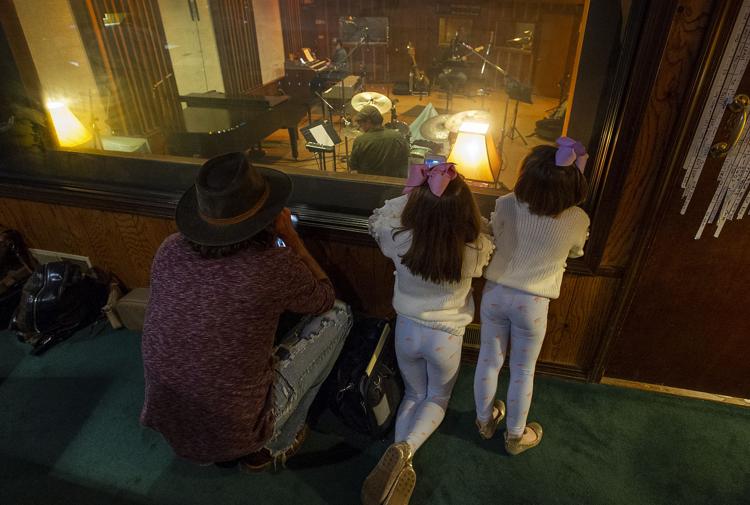 The other thing the brothers hope to capture is the relaxed collaboration of session musicians with the artists and producer. During a break, session player and bass guitarist Jay Cott suggested a disco idea to track. At first most of the group was unsure of the octave changing pulses but fellow session player and keyboard player Peter Keys saw where it might go and gave it a try. Four minutes later, everyone looked at each other and saw the potential. Another go through the track and everyone settled on a chart for the song.
"It's collaboration," Tooke said. "Some producers are like, 'You do this, you do this and you do this.' I'm not and this building just brings it out."
The Wilson Brothers love the collaboration with the decision-making being family-like – ultimately the brothers and Tooke decide but it is still far from a dictatorship sometimes seen in the industry.
"Here it is just more laidback," Kyle said. "We have more creative control to do what we want to do with our songs."
The energy from the FAME Studios building is similar to the brothers' love of energy of live shows.
"We are more of a live band," Chad said. "We have more energy on stage. This place is known for capturing that. Nashville ain't. Nashville is polished; it doesn't capture the feel."
To help capture the "feel," Tooke helped The Wilson Brothers bring in sound engineer Chris Mara and his knowledge of recording to tape to take advantage of FAME's 2-inch, 24-track tape recording machine.
"We worked with (Mara) when we cut Davis Nix's record at Mara's Welcome to 1979 studio," Chad said. "When we knew he was on board coming here, we knew we had it good."
Kyle said, "He just knows vintage gear. He is one you want to go to when cutting to tape." 
Chad is happy with the team in Muscle Shoals this week.
The group is gaining momentum. In September fans voted The Wilson Brothers Band as Nashville Industry Music Awards' Best Country Duo of the Year. 
The Wilson Brothers' new manager Johnson with Platinum Music Management has helped the brothers reach new heights. Friday night they played a show at Carol's Pub in Chicago.
The new attention is not getting to Chad and Kyle's heads. They are proud to say they were involved in writing every song that will be on their new album.
"We believe the 12 songs on the album will make it a great record," Chad said. "There are some amazing songwriters on there too. There are a couple we wrote individually. For the most we wrote them with our friends. We couldn't be more excited for them too." 
The brothers plan to put out a track listing for the second album with who wrote the songs in the coming weeks but don't worry. Chad and Kyle said they have performed most of the songs in at least one show. 
There is not a release date for the album yet. 
"Hard to put a timeline on It," Kyle said. "We haven't decided if we are going to release a single first or the record. Hadn't got that far into it."
Chad said, "We feel like it is the best stuff we got. We are writing and performing better than we ever have. We'll probably have the whole record done and give it a good listen before we decide what to do."
The Wilson Brothers have plans if they happen to follow in the footsteps of big-time artists who have recorded at FAME, but they will still follow their musical dreams.
"We can get caught up on some bills," Kyle said. "We just take it as it comes. We will see what comes up. No matter what, it is not going to stop us from writing and recording records, but I think if you put out a good product and stand behind it, people will too."
Chad said, "Shoot, we might be able to go out and afford something to eat then."
Even if their music careers don't turn into what Aretha Franklin and others found at FAME, The Wilson Brothers said they will still be rich.
"You got to have money, don't get me wrong," Chad said. "Our music family is rich. We have great people. They are family. We write with each other; they love us; we love them. The money will come and go, but that will stay with us. It's our family."