Racing and festivities will be on the docket Saturday at Dadeville's annual Ducky Ward and Pops Ward Soap Box Derby and Fall Festival. 
The third annual soap box derby will be held from 9 a.m. to 3 p.m. on Spring Street Dadeville resident Marrell "Pops" Ward Sr. started the race two years ago in memory of his son Marrell "Ducky" Ward Jr. to encourage children and parents to work together and get them outside the house. Ward died in May but his family is carrying on the legacy by continuing the event.
"We're just keeping it going it for him," said Michael Ward, Marrell's son. "He wanted more parent-child interaction."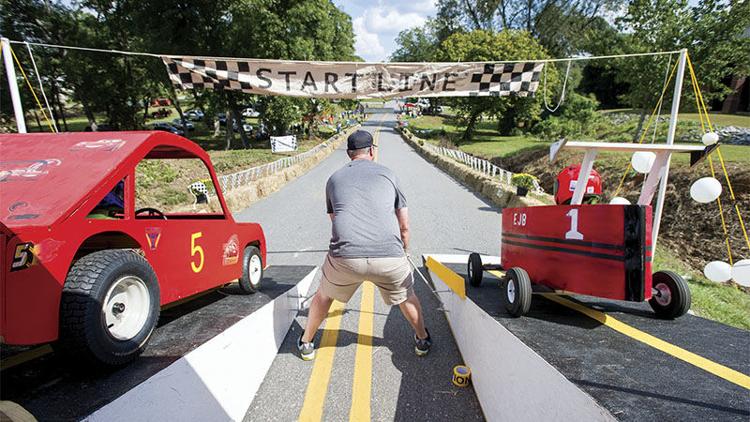 The age limit is 8 to 13 years old and the carts must be hand-built, Ward said. About 20 children participate in the derby every year.
"My favorite part about it is seeing the kids enjoy it," Ward said. 
Ward said the deadline has passed for registration, but anyone interest won't get turned away. The cars must have proper steering and brakes.
The top two finishers will win trophies. Ward said people should attend the event to see the children.
"It's all for the kids; come support the kids and have a good day," Ward said. "The biggest thing is I can't thank my dad enough for putting it all together for the kids."
Dadeville Mayor Wayne Smith said the racing event is growing every year.
"We're losing some folks here but the family is still carrying it on with the city's blessings and a lot of volunteers," Smith said.
The fall festival will be held from 8 a.m. to 4 p.m. in downtown Dadeville. The event will feature inflatable games, pony rides, cheerleading contests, live music and a car show.
"It's going to be big," Smith said. 
The event will have bands at the Gazebo and music group River Dan will perform at Pennington Park. Mascots Aubie and Big Al will also be at the event.
Smith said he enjoys meeting visitors who stop in through the city during the event.
"Last year I probably met 25 to 30 people I didn't know who said, 'This is the first time I've been to town; I like it,'" Smith said.